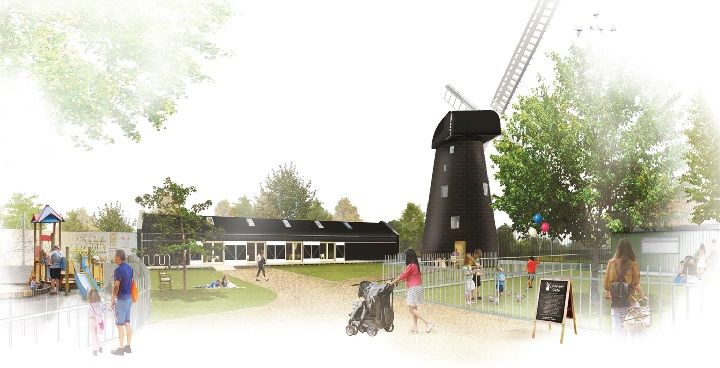 The centre, designed by Squire and Partners, who worked on the concept design for free, will provide  classroom space for adults and children, offering a range of classes, from jam making to science and art lessons for school children.
The space will also be bookable for community events as well as meetings and seminars, making this a true community facility.
The centre has been funded by Lambeth Council, with the Friends of Windmill Gardens taking on the ongoing management of the centre once it is built.
'Great news'
Cllr Adrian Garden, ward councilor for Brixton Hill, said: "It's great news that Brixton Windmill is finally to get its education centre. This will complement the work it is already doing in the local community with its education programme to primary schools, its guided tours of the Mill, its spring and summer events and its festivals and processions."
Work is expected to start in May, with the education centre complete in the Autumn.
Friends of Windmill Gardens
Jean Kerrigan, chair, Friends of Windmill Gardens (FoWG): "The Friends of Windmill Gardens are delighted that planning permission has been granted to build an education centre in Windmill Gardens. This will allow us to provide improved facilities to visitors and most importantly to provide an education building for schoolchildren that visit the 200-year old Brixton Windmill.
"Having an education building also allows us to increase our activities and support the flour production at Brixton Windmill as well as provide a space for use by the local community. Most importantly it allows the FOWG to continue to maintain its aim to educate both young and adult visitors about this wonderful heritage building in the centre of Brixton.
"The FoWG, a local charity that is wholly run by volunteers, are committed to managing the building upon its completion. We thank Lambeth Council for funding this project and hope to work in partnership with them as we continue to organise the successful programme of tours at Brixton Windmill and popular community events in Windmill Gardens.
"We also thank architects, Squire and Partners, for their design, commitment and generous support for this project."