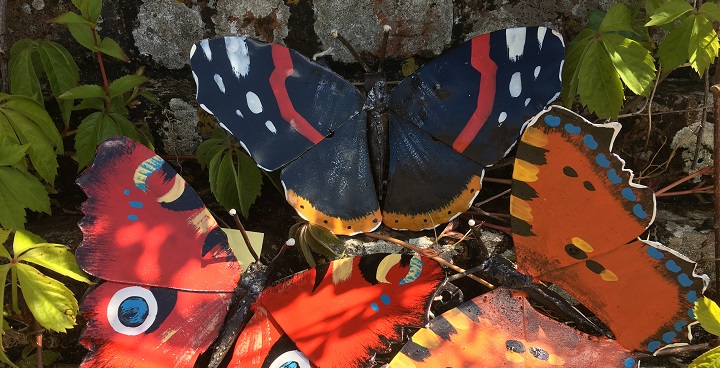 Two giant butterflies arrived in Brockwell Park for half term, June 2021.
Explore green spaces
The hand-painted butterflies with their 20cm wingspan are made from recycled metal – oil drums and car parts – from India. They are a gift from Butterfly Conservation's new 'Big City Butterfly' National Lottery funded event. BCB is working with Lambeth's Parks Team as part of a project to inspire people to explore local green spaces to spot butterflies and moths, learn to enjoy them, and to help them thrive in their neighbourhoods and all over London.
Word from the Cabinet
Cllr Sonia Winifred, Lambeth Council Cabinet Member for Equalities and Culture, said: "We hope these Big City Butterflies will help inspire children and parents to explore Lambeth's green spaces and get interested in butterflies and moths and their place in the environment. This could quickly lead to conservation activities as part of Lambeth's Pollinator Action Plan, as well as an interest in our priorities around Climate Change and biodiversity."
Highly visible
In half-term week, anyone who spotted the butterflies could take and upload a photo for automatic entry into a prize draw. Brockwell's butterflies were highly visible in places popular with schools – on the clock tower and on the pond in the walled garden.
Flies on the wing?
In the future, Parks may move the butterflies to other parks over time to signpost signal people to more of our wildlife-friendly spots  – or perhaps run their own competition and offer the butterflies as a prize to the best drawing or picture of a real butterfly sent in by children.
More information
To find out more about butterflies and moths and the work of Butterfly Conservation you can get a free download featuring facts and activities from Big City Butterflies. It includes messaging around caring for and respecting Lambeth's green spaces, eg taking litter home.
To find out more about Lambeth's Pollinator Action Plan 2021-2025 see the Council's web pages
To find out more about Lambeth's award-winning Green spaces all over the borough, see the Council's web pages