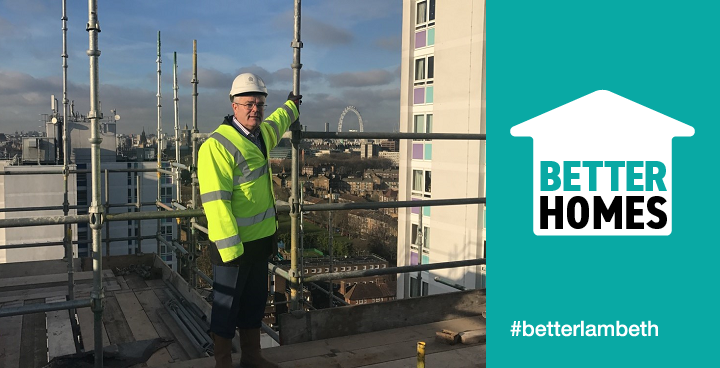 A blueprint for new homes
Lambeth is determined to provide better homes for those who are living in sub-standard properties that we can't afford to refurbish, and more homes for people who don't have a permanent roof above their heads at the moment.
That's why we're committed to delivering 1,000 new homes at council level rent, and next week a blueprint for providing some of those homes will be set before the council's cabinet.
Next Monday, cabinet members – including myself – will discuss the proposed business plan drawn up by Homes for Lambeth (HfL). HfL is a wholly-owned council company we have set up to build hundreds more and better homes to house the people of Lambeth. The document lays out proposals to build an initial 300 new homes and to have over 500 newly-built homes under management in five years.
These new homes are urgently needed: like most of London and other parts of the country, Lambeth is in the grip of a housing crisis. We have over 27,000 households on our housing waiting list, and over 1,700 families in temporary accommodation – including over 3,000 children.
Homes for Lambeth
Spending restrictions and the government's housing policies mean that we cannot deliver these homes directly. Homes for Lambeth will enable us to build and manage more and better homes, to help reduce the substantial pressures on the council's housing waiting list and to improve the lives of those residents currently living in poor-quality and overcrowded homes.
The scale of Lambeth's commitment is demonstrated by the fact that, if agreed, the council will be investing around £300m into HfL over the period covered by the business plan. The council is and will remain the only shareholder for this new group of companies, thereby ensuring on-going democratic oversight and control.
The homes will be built across three estates that are part of the council's estate regeneration scheme, and a range of smaller sites where the council is using all available land to build the genuinely affordable homes that our residents need. The business plan represents a major investment into affordable housing to tackle the housing crisis that Lambeth faces.
Delivering on the Key Guarantees
The cabinet will also discuss the proposed new Lifetime Assured Tenancies and leases. These have been drawn up following extensive consultation with the residents of the six estates which will be rebuilt. The proposed new tenancies and leases make clear that we are delivering on the Key Guarantees – including the commitment that every council tenant will be able to move to a brand-new home at council level rent and affordable options will be provided to assist resident homeowners to stay on the estate.
The council has listened to residents' views on a number of key concerns, including repairs, flooring, pets and subletting.
Housing represents one of the greatest challenges facing Lambeth, and while we know that we can't solve this problem on our own, we are committed to doing everything possible to intervene directly to ensure that more people can afford to stay and live in a good home in the borough.
Updated – 24 January 2018
On Monday, both the business plan and terms of the Lifetime Assured Tenancy and Leases HfL will be offering were agreed by cabinet. Minutes of the cabinet meeting will be published below once they have been produced.