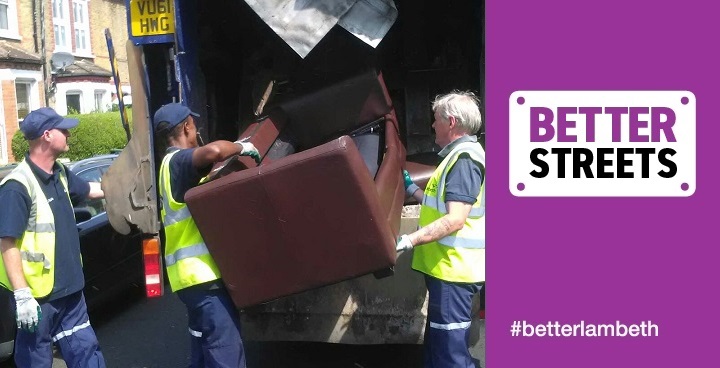 Use Lambeth's bulky waste collection for cleaner streets and estates.
We will collect…
white goods and large electrical items – fridges, freezers, washing machines etc; cookers; lawnmowers; carpets; bed frames; mattresses; furniture; televisions; small electrical items. All white goods, metal items and televisions that we collect get recycled, they don't go into landfill.
We won't collect…
How much does it cost?
The charge for using Lambeth's bulky waste service is:
£16 each time you use the service for up to two separate items or two bags
an additional £7.50 for each extra item collected.
How to book a bulky waste collection
Book online 
Can anyone book bulky waste collection?
Most residents in Lambeth can use the service, including private home owners, renters and council tenants/leaseholders.
If you live in a privately owned block of flats, please use the booking form to request an assessment of whether we can safely collect from your block. If we are unable to collect, contact your landlord, managing agent or a licensed private company to arrange disposal.
If you live in a flat above a shop, we're unable to collect your bulky items as there's nowhere they can be left for collection without obstructing the pavement. Please follow the procedure  for privately owned flats.
If you live in a council managed house and use a black wheelie bin for your rubbish you can use the bulky waste service.
If you live on a housing estate managed by Lambeth Housing Management (ie a 'council estate'), contact your estate management office.
When you've got your collection date
Securely tie together loose items, such as wood, or put them in a heavy duty bag. Each bag/bundle must weigh no more than 14 kilograms).
Tape up fridges and freezers shut so children cannot get inside.
Put all items out where you normally get your bins collected after 8pm the night before and before 6am on the day of collection.
Don't 'add to' your booking. Items that haven't been listed and paid for won't be taken.
If your collection isn't made before 6pm on the day you have booked report a missed collection.
Other ways to dispose of bulky waste
You can take larger items to one of our Reuse and Recycling Centres – saving yourself the collection charge:
Vale Street, West Norwood, London, SE27 9PA (you will need proof of address when using this site)
Smugglers Way, Wandsworth, London, SW18 1JS
Items in good, working condition can be donated to local charities like Emmaus who help the homeless.
For more information
For more about waste collection, garden waste, flytipping and enforcement, see our information pages