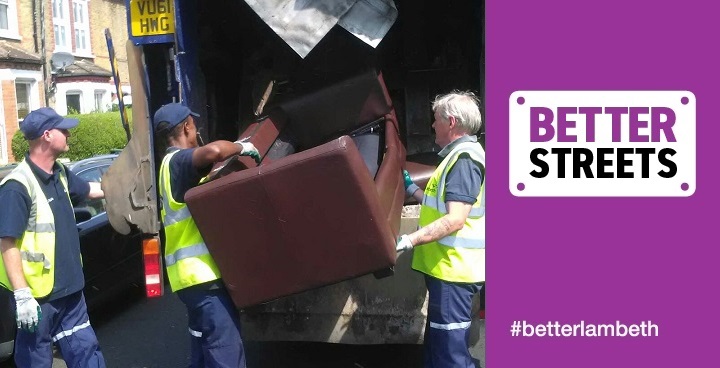 Sign up to Lambeth's bulky waste collection for cleaner streets and estates.
How much does it cost?
Each collection costs £21 for up to four separate items or four bags. There is a charge of £6 for each additional item that is collected.
You can also share bulky waste collections with neighbours to save money.
 Who can use this service?
Most residents in Lambeth can use the bulky waste service, including private home owners, renters and council tenants/leaseholders.
If you live on a housing estate managed by Lambeth Housing Management (ie a 'council estate'), you will need to arrange your bulk waste collection through your estate management office.
How to book a bulky waste collection
To book a collection, call the Lambeth Contact Centre on 020 7926 9000.
For information about what items can or cannot be collected, go to our bulky waste information page.
---
Other ways to dispose of bulky waste
Recycling centres
You can also take larger items to one of our Reuse and Recycling Centres
Vale Street, West Norwood, London, SE27 9PA (you will need proof of address when using this site)
Smugglers Way, Wandsworth, London, SW18 1JS
Donate items to charity
Items in good, working condition can be donated to local charities like Emmaus. Emmaus provides accommodation and work for the homeless.
---
Rubbish dumped illegally
Dumped rubbish frustrates us just as much as you. Not only is dumped rubbish unsafe and looks unsightly, it costs more than £140 per tonne to clear away. We want our streets to be clean, pleasant places to live in and we're determined to catch those responsible for dumping their rubbish illegally. We're using portable cameras to decrease the amount of waste dumped illegally, but we still need your help to catch the offenders!
Enforcement
Our enforcement officers rely on residents to provide information regarding those responsible for dumping waste illegally so that we can prosecute. If we can identify the offender, financial penalties can be issued and if necessary offenders can be referred for prosecution at the local magistrates' court. These offenders could face a fine of up to £50,000, community punishment orders or prison sentences of up to 5 years. Report a flytip.