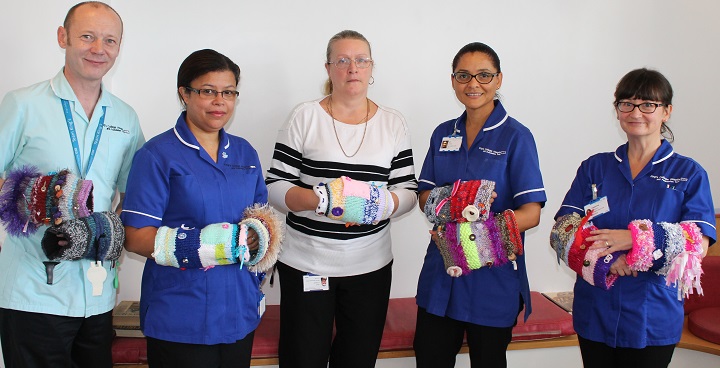 On Friday 27 January a 'knit-in' is being held at King's College Hospital, Denmark Hill, in a bid to get as many twiddle mitts knitted as possible in one day for patients with dementia across the Trust.
The falls and dementia teams at King's have recently launched a twiddle mitt initiative across the Trust. Twiddle mitts are simple knitted cuffs that a range of items including ribbons, buttons or beads can be sewn to. They provide activity for patients with dementia, and are colourful multisensory distractions that keep restless hands occupied and cold hands warm.
As each mitt can only be used by one patient for infection control reasons as many as possible are needed.
When and where
The knit-in will run from 9am – 5pm on Friday 27 January, in The Boardroom, Hambledon Wing. Everyone is welcome to come along and knit a mitt.
What to bring
People are encouraged to bring along their own needles, wool, and items to attach to the mitts (as well as a needle and thread to attach them with) as only a limited amount of materials can be supplied.
If you can only spare a bit of time there is the option to knit as much as you can and leave the mitt for someone else to complete, or to complete a mitt that someone else has started.
For those who want to help out but aren't knitters, there's also the option to attach the ribbons, buttons and beads to the completed mitts. A knitting pattern can be found on the King's College Hospital website.
How to get involved or donate
Please email kch-tr.twiddlemitts@nhs.net if you are interested in coming along and helping out, including a rough idea of what time you will be arriving.
Donations of wool, circular knitting needles and items to attach to the mitts are also very welcome; please email kch-tr.twiddlemitts@nhs.net if you would like to donate any items.
For more information please visit the King's College Hospital website.