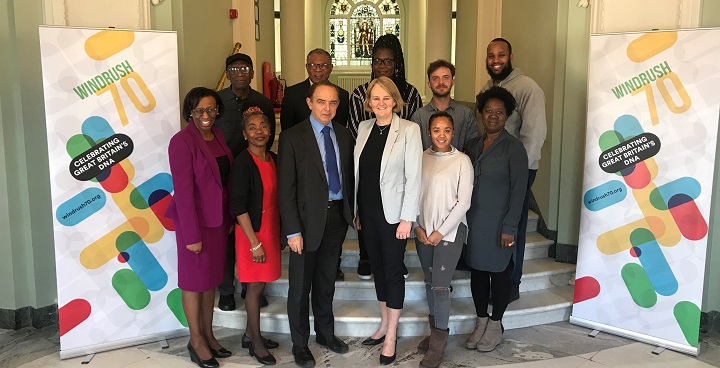 It features a new website at www.Windrush70.com, hosted by The Voice newspaper, listing events up and down the country. A Windrush70 logo has also been designed by Brixton based social enterprise design agency Champion Agency as well as commemorative pin badges.
The launch kick-starts a series of events and celebrations including performances, exhibitions and debates to take place across the year to ensure that the Windrush legacy lives on for future generations.
Communities Minister Lord Bourne said: "I am delighted to launch the Windrush 70 campaign today to celebrate the history of Britain's black communities.
"The campaign is centred around the legacy of the Windrush Generation, and will recognise and celebrate the enormous contribution of the Windrush Generation and their descendants. It will also keep this legacy alive for future generations, ensuring that we all recognise the diversity of Britain's history."
The arrival of 492 passengers from the Caribbean on the 22 June 1948 marked a seminal moment in Britain's history. The men and women who came to Britain contributed significantly to rebuilding the country following the war and their settlement has continued to enrich social, economic, political and religious life.
Cllr Lib Peck, Lambeth Council Leader, said: "Lambeth has a pivotal role in the Windrush story and is a borough proud of its diversity and openness. I'm absolutely delighted that its young people from Brixton who've created these designs and hope the whole country will celebrate not just Windrush 70 but the great cultural, social and economic enrichment that the Windrush generation and subsequent migrants have brought to this country."
Lord Bourne and Cllr Peck were joined at the launch by Cllr Sonia Winifred, Cllr Donatus Anywanu, Arthur Torrington of the Windrush Foundation, Young Lambeth Cooperative's Chloe Thorogood, Champion Design's Symone Barden, Oscar Park and Scott Leonard, and Binki Taylor from the Brixton Design Trail.
Events planned include:
Westminster Abbey service – June 22
Lambeth Town Hall tea party for older residents – June 22
Windrush Square community event – June 23
Phoenix Dance Theatre performance, Lambeth Town Hall – June 23
Harry Jacobs photo exhibition, Lambeth Town Hall – Late May – July
Baroness (Floella) Benjamin's Windrush Garden, Chelsea Flower Show – May
Women of Windrush talks