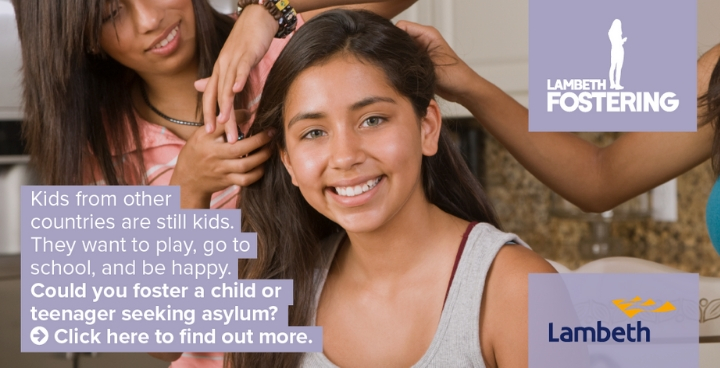 A new campaign urging people from Lambeth's diverse communities to become foster carers for children who have fled conflict abroad has been launched to coincide with Black History Month in October.
The campaign – called 'Kids Are Still Kids' – asks people from Somali, Afghan, Eritrean and Sudanese communities to step forward and become carers to children from their homeland.
A series of events are taking place during Black History Month and staff from Lambeth's fostering service will be out and about across the borough and other parts of London explaining the role of fostering, and how people can get involved.
Foster carers are valuable people who work with social workers and other professionals to support children in care. They give a child a warm and loving home and a stable family routine during a difficult period of their life.
Word from the Cabinet
Cllr Jennifer Brathwaite, Deputy Leader of Lambeth Council's and Cabinet Member for Children and Families, said:
"Lambeth Council is working with the Government to find families for children who have arrived in this country alone after fleeing civil disorder abroad. The majority of children we are asked to support come from four countries, namely Somalia, Eritrea, Sudan and Afghanistan.
"We believe that placing children from these countries with families from their own communities, who practice their faith, understand their culture, and speak their language, means there is a better chance of those children settling in sooner and living a better life.
"We know that fostering isn't widely understood in some communities, so we are visiting a number of events during Black History Month to talk to people about what fostering is, and ask them if they will consider becoming a foster carer to children from their own countries."
While placing a child with a family from their own country has a better chance of success, there are many good examples of asylum-seeking children being successfully placed with foster carers from the UK, and we are urging people who are interested in becoming foster carers to children and teenagers from abroad to come forward and find out how.
The message in our campaign illustrates the point that children who come to the UK unaccompanied want the same things, and share the same dreams, aspirations and ambitions of all children; to play and have fun, to have an education, to be happy and to have a good career.
Anyone can apply to be a foster carer – all you need is a room in your home and time in your life to provide a child with some stability and care for however long they need it. You'll get an induction, ongoing training, and support from our fostering team and social workers plus a generous weekly tax-free allowance for each child that you foster.
For foster carers who want to offer a home to a child from abroad, we offer extra training to help you understand the process of becoming a UK citizen and support any issues the child may have.
Come and speak to us about fostering

Our fostering team will be at the following locations on these dates and times:
Monday 1st October: Somali Community Centre – 7-9 Crowndale Road, London, NW1 1TU – 11am to 12:00pm
Thursday 4th October: Tate Streatham Library – 63 Streatham High Road, Streatham, London, SW16 1PN – 11am to 5pm
Tuesday 9th October: Clapham Library – Mary Seacole Centre – 91 Clapham High Street, London SW4 7DB – 11am to 5pm
Thursday 11th October: Brixton Library – Brixton Oval, Brixton, London SW2 1JQ – 11am to 5pm
Tuesday 16th October: Somali Community Centre – 7-9 Crowndale Road, London, NW1 1TU – 11am to 12:00pm
Thursday 18th October: Brixton Library – Brixton Oval, Brixton, London SW2 1JQ – 11am to 5pm
Tuesday 23rd October: Upper Norwood Library – 39 Westow Hill, London, SE19 1TJ – 11am to 5pm
Thursday 25th October: Eritrean Community Centre – 78 Edmund Street, Camberwell, SE5 7NR – 11am to 2pm
Monday 29th October: Waterloo Library – 1 Kennington Road, London, SE1 7QP – 11am to 5pm
You can find out more about Fostering and Adoption in Lambeth online at lambeth.gov.uk/fosteringandadoption.