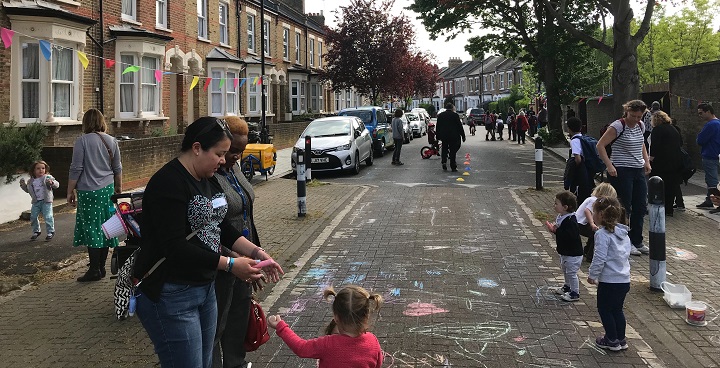 Lambeth residents celebrate Car Free Day on 22 September with 25 Play streets and street parties all over the borough this weekend. These community-led road closures stop traffic for a few hours, bringing neighbours together to reduce car use for a cleaner, happier world.
Word from the Cabinet
Cllr Claire Holland, Lambeth Cabinet Member for Environment and Clean Air, said: "Roads and streets are as much a part of the public realm as parks and open spaces. In Lambeth, we have celebrated Car Free Day for almost a decade by closing roads and reclaiming the space for everyone's enjoyment. This year we want to work with community groups, doing all we can to support them to make this year's Car Free Day even bigger."
Why have Car Free Day?
Air pollution is one of the biggest health emergencies, with more than two million Londoners (including more than 400,000 under 18s) living in areas above legal NO2 limits.
According to TfL Research, 3 in 4 Londoners worry about the impact of air pollution on their health
Over half of Londoners think you can always see when pollution is bad – in fact many invisible pollutants can be present in air that looks clean
Almost 1 in 2 Londoners don't realise that road vehicles are the main cause of air pollution
Lambeth Play Streets by ward  
Ackland Cres Herne Hill
Aldebert Terrace/St Stephen's Terrace Stockwell
Arragon Gardens Streatham South
Barnwell Road Coldharbour, Herne Hill
Berry Lane Thurlow Park
Chancellor Grove Thurlow Park
Churchmoore Rd Streatham South
Courtenay Street Prince's
Deepdene Road Herne Hill
Englewood Road Clapham Common
Fentiman Road Oval
Frazier Street         Bishop's
Hambro Road St Leonard's
Hawarden Grove Thurlow Park
Hurst Street Herne Hill
Lewin road St Leonard's
Pathfield Road St Leonard's
Pyrmont Grove Knights Hill
Queensville Road Thornton
Rollscourt Ave Herne Hill
Talma Road Coldharbour
Trinity Rise Thurlow Park
Turret Grove Clapham Town
Van Gogh Walk Vassall
Wavertree Road Streatham Hill
Wellfield Road Streatham Wells
Wyatt Park Road Streatham Hill
Inspired by Car-Free Day?  You can help the environment everyday
Walk or cycle – have a positive impact on air quality and your health, save money and experience London in a different way.
Get around on public transport, including the Night Tube, Night Bus and Night Overground services.
Car clubs are a cost-effective and flexible alternative to owning a car.
Turn off your engine when you're parked or waiting in traffic, and drive as smoothly as possible.