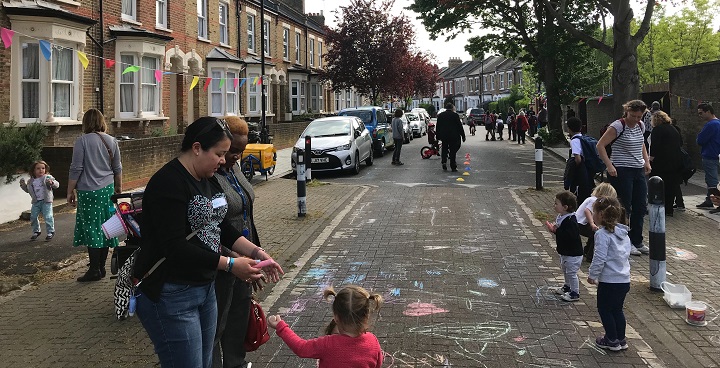 Play Streets is an opportunity for residents to apply for their street to be closed for a few hours each week or once a month so that space can be used for children to play.
The benefits
There are many benefits to Play Streets including that it brings the community together, gives children a safe exciting place to play, as well as helping to reduce pollution on your road.
Accessing your street
Don't worry residents will still able to access their properties via car during the road closure. Parents and other street residents act as wardens, allowing their neighbours to drive to and from their properties at a walking pace, through traffic is re-directed.
Celebrate car free day
Lambeth council are encouraging every Play Street to hold a launch event in celebration of Car Free Day, on the 22 September. Car Free Day is an international day of celebration that promotes the idea that streets should be reclaimed so that they benefit all road users equally, and that we can all help to reduce car use resulting in a happier, cleaner world.
We would like Lambeth to be a borough where the streets are not dominated by cars, where children can play outside in clean non-polluted air and adults come together to help make this happen. Once granted the closure it is valid on the authorised dates for a year. We would like to see many streets all across the borough taking advantage of this exciting opportunity.
Word from Cabinet
Quote from Cllr Claire Holland, Environment and Clean Air
"Roads and streets are just as much a part of the public realm as parks and open spaces. In Lambeth, we have celebrated Car Free Day for almost a decade by closing roads and reclaiming the space for everyone's enjoyment. This year we want to work with community groups to help them use their road for play on a regular basis and we will be doing all we can to support them to launch their 'Play Street' on Sunday 22nd September to make this year's Car Free Day even bigger"
---
Advice and support is available for your Play Streets application and to create a successful launch event on Car Free Day, please express your interest by emailing Sustainabletravel@Lambeth.gov.uk