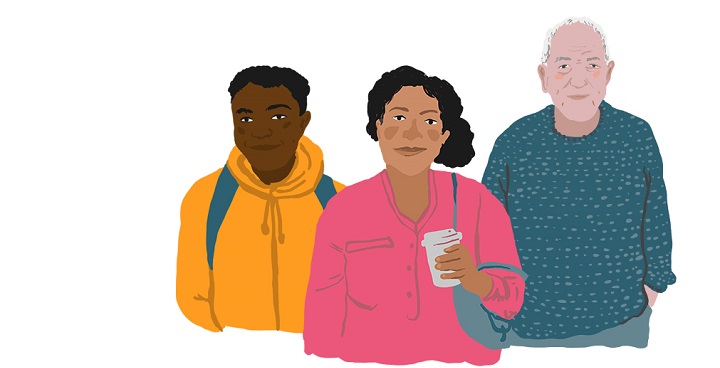 Many carers – some new to caring for family or a loved one, some who have been carers for years – don't know that help's available. The Lambeth Carers Card went live in Autumn with an online showcase of the new resources on offer and .
Your Lambeth Carers Card
Your Lambeth Carers Card flags up 'I am a Carer. Someone depends on me'. It includes space for emergency contact details, so if something happens, people will know who to contact to help look after the person you care for.  You can also use our emergency plan template and tips, to help put a back-up plan into place.
Your free access code for Lambeth's version of the Carers UK Digital resource For Carers includes e-learning, factsheets, interactive guides and essential information on health and wellbeing, support for caring, the Jointly app, finances, young adult carers and more.
Keep updated with news, support and opportunities for carers in Lambeth via the Carers Card newsletter and online events.
Word from the Cabinet
Cllr Danny Adilypour, Lambeth Cabinet Member for Health and Social Care, said: "Carers support our most vulnerable residents. The pandemic has put additional burdens on them, they are struggling to make ends meet, feeling the toll that caring has taken on their physical and mental health, and becoming increasingly isolated. They need us on their side."
Growing carer numbers
Census figures even 10 years ago showed a 10% increase in 10 years to more than 20,000 unpaid, informal carers in Lambeth. This must currently be a significant underestimate, since nationally 4.5 million people have started providing unpaid care since the Covid-19 outbreak – nearly 50% increase.
To apply for a carers card
To sign up for your Lambeth Carers Card, please visit the website, call  020 7501 8973 or email info@lambethcarerscard.org
The Carers Card is open to unpaid carers aged 18 +, living in or caring for someone in Lambeth.
More information
Lambeth Carers Card has been developed by a partnership with Carers' Hub Lambeth and  MYsocial,an Age UK Lambeth service. It's funded jointly by the London Borough of Lambeth and the NHS South East London Clinical Commissioning Group.
The Lambeth Carers Card is key to the Council's and CCG's Lambeth Carers Strategy to improve the quality of life of unpaid carers.
See video from the launch event on the Carers Hub You Tube Channel.