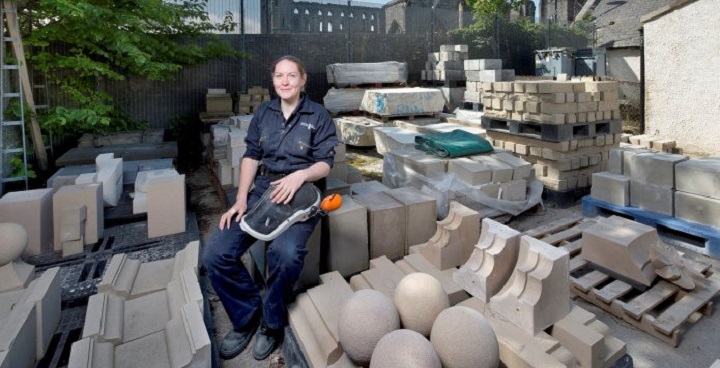 Heather Griffith, a stone mason in the final year of her degree at Lambeth's City and Guilds College, sees the empty granite basin near Kennington Park Flower Garden where once a solid bronze drinking fountain stood everyday.
A piece of sculpture
"I propose to carve a faithful limestone replica. There's a working fountain nearby, so it's a sculpture, not for drinking. And I can't cast it in bronze, because my degree demands a stone project. It will be given into the care of the 'Friends of Kennington Park' on behalf of Lambeth residents, thanking the Friends for all they do to maintain this much-loved green space in the heart of the city."
Welcome by Friends
Marietta Crichton-Stuart of the Friends of Kennington Park says: "The fountain Felix Slade donated in 1861 is a pale shadow of its former self, so the Friends of Kennington Park support Heather Griffith's bold initiative to restore a historic part of the park's story."
Water source
"The story goes that Felix Slade, founder of the Slade School of Art, was walking in the park, asked for a glass of water and could only get dirty water in a chipped cup" says Heather. "Then he saw children playing and realised there was no fresh water for them either. The original was partly stolen within a year – the bronze handles and side plate were unscrewed and gone before the nightwatchman got there. They were replaced, but the urn was completely stolen in the 1950s."
Earning the urn
Heather has set up a crowdfunding page, because:
The stone will be quarried in France and shipped to the UK
Parts made of bronze – the two double snake handles and the side panels – must be profesionally cast from Heather's carvings
If you know anyone who loves the park – joggers; dog walkers; Kenningtonians, stone masons or history lovers, please pass on the message of support. Super special rewards for crowdfunders will include a replica of the bronze acorn from the top of the urn.
More information