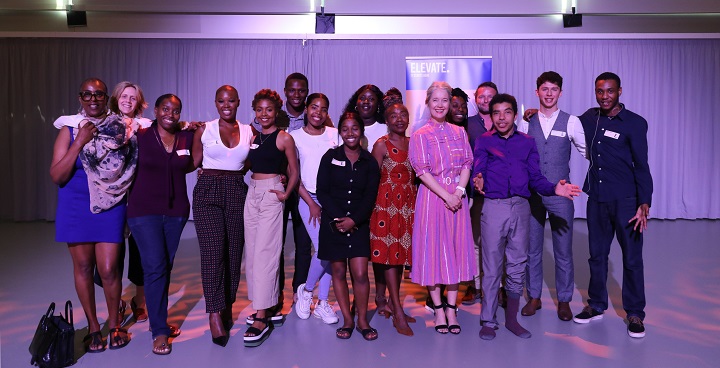 The celebration led by young people, with speeches by Cllr Jack Hopkins, Lambeth Council leader and Justine Simons the Deputy Mayor of London, Culture and the Creative Industries, took place at Rambert Studios on the South Bank.
ELEVATE is made possible by a Cultural Impact Award from the Mayor of London, secured by Lambeth Council through its London Borough of Culture bid — Radical Hearts. Open Minds.
'Grassroots creative talent'
Justine Simons, Deputy Mayor for Culture and the Creative Industries, said: "London is bursting with grassroots creative talent but too few young Londoners get the chance to pursue careers in the creative industries. That's why we're determined to change this and why I am delighted to support Elevate, a fantastic project that will nurture the capital's rising stars and help secure London's position as a world class cultural capital"
'Leading the way'
Cllr Jack Hopkins, Leader of the Council, said: "Lambeth has long been a place and a people who create art and culture, and we are still doing it, so it's no surprise that we are also leading the way in London, attracting creative and digital businesses to the borough.
"However, our diversity, the very thing which has make us a creative place is not reflected in these vital sectors and we need to put that right.
"That's why we are making sure that the opportunities for jobs, training and experience in the creative sector are visible and accessible to all of our communities, so that not only are they able to get into the jobs of the future but that these sectors can be more successful because they are strengthened by the talents of all our communities.
"Lambeth has started ELEVATE, our mission to support talent from diverse communities and open up the creative workplace and I'm confident that Lambeth people will lead the sector if they are given the chance."
Get involved
Livity Inside Out at Lambeth Country Show, July 20-21
Ten young people have worked with Livity, the youth-led creative network based in Brixton, to examine and challenge how violence affecting young people is portrayed – meet the makers, performers and game changers as they demonstrate who is owning the narrative with a youth market, a music stage, talks, spoken word, art exhibitions, workshops and more in their Youth Zone at Lambeth Country Show.
Additional projects supported by ELEVATE are led by: The Old Vic (in partnership with Streatham Space Project, Omnibus Clapham, POP Brixton, Morley College Gallery, Garden Museum Vauxhall, Southbank Centre); the WOW Women of the World Foundation (in partnership with Lambeth Schools); B3 Media and the South Bank Partnership including the National Theatre, BFI, Southbank Centre and Rambert.
With support from A New Direction through its Challenge London programme, Lambeth establishes a Local Cultural Educational Partnership which aims to ensure all children and young people in Lambeth benefit from a coherent, inclusive and dynamic arts and cultural offer that enriches their lives and gives them tools to succeed.
The launch marks a beginning with further projects in planning, guided by a group of young creatives, ELEVATE's Elevators.