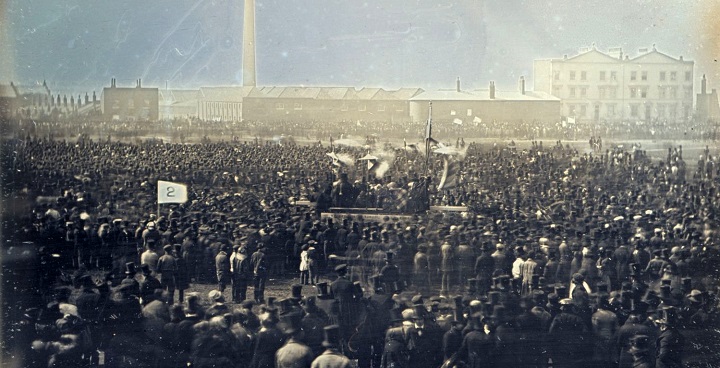 In 1848, as unrest consumed Europe, Kennington was at the centre of the fight for social justice in Britain. Tens of thousands of people gathered on Kennington Common on 10 April, demanding the right to vote.
Fear of revolution
The Chartist march from Kennington was meant to deliver a petition to parliament with 2 million signatures. The establishment sent the army onto the streets, while the Queen was evacuated to the Isle of Wight. Over 80,000 special constables were recruited to defend the capital against an expected bloody uprising.
Reform and inspiration
When only those with land and property had the vote, the Chartist movement saw working people come together for democratic reform. They included inspirational figures like Anne Knight, who produced what is thought to be the earliest leaflet on women's votes, and the radical William Cuffay, son of an emancipated slave.
Compromise
On the day, the Chartist leadership was divided. Some feared a massacre and agreed a compromise. The petition was delivered to parliament by a small delegation. Violence was averted, but the issues still resonate. Fast forward to 2018 — when the news keeps reporting fears of a breakdown in democratic values: What's the legacy of Kennington1848?
Tuesday 10 April 2018
Mark the 170th anniversary, and discover a summer of walks, talks, workshops and events for all the community, to celebrate Kennington Park's dramatic place in the history of democracy. Four flag bearers will arrive at 10.45, representing where London Chartists met and walked from in 1848.
Saturday 7 July 2018
Kennington Park will celebrate the Chartists, featuring a schools parade, exhibition, community choir performing Chartist songs, spoken word performance, debates, sideshows and a vocal relay stretching from Kennington to Westminster. Help create a community event to remember.
April to October 2018
Guided walks beating the bounds of the old common.
Historical talks in St Mark's church, site of the old common's gallows corner.
Workshops with primary schools, and local 16-24 yr olds, exploring writing a new charter, and the traditions of oratory, protest song, and banners.
Building a legacy
Throughout the project the Project will build an online archive, and ask people to contribute ideas for a permanent Chartist memorial and/or future commemorations, especially the 175th anniversary in 2023.
---
For more information
 Kennington Chartist Project is an initiative by Lambeth residents to celebrate Kennington Park's place in history. The project draws on the skills of local artists and historians, supported by the Friends of Kennington Park, and the Heritage Lottery Fund. See their information pages, follow them on Twitter or email kenningtonchartistproject@gmail.com
For details of the free walks, talks and workshops, book via eventbrite
 (Image: courtesy of Dave Steele)