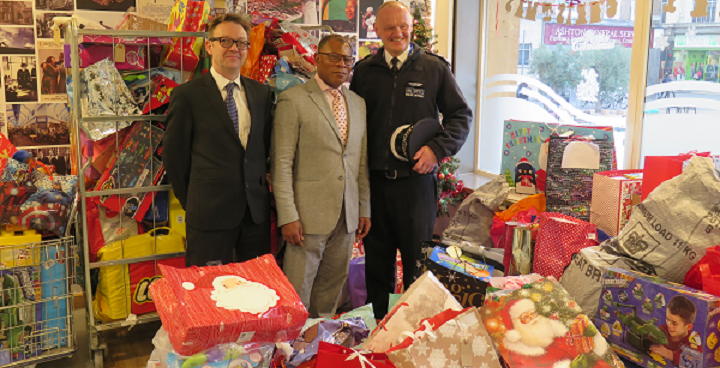 Mark Stancer, Lambeth Council's Director of Children's Social Care, and Cllr Donatus Anyanwu, Lead Member for Community Relations, met with Lambeth Borough Commander, Richard Wood, to receive Christmas presents collected as part of the Met Police Commissioner's Christmas Tree Project 2016.
Generous members of the public donated presents and money to this year's appeal, which works to ensure that all children in London receive a gift this Christmas. These were handed over on Wednesday to Lambeth Council to distribute to looked-after children in the borough, and to youngsters at both Kings College Hospital and Guy's and St Thomas's Hospitals.
Last year, over 11,000 presents were given out and over £9,000 raised through public donations across London. This time around, in Lambeth alone, over 860 children will receive a present through the appeal, bringing some festive cheer to those that might otherwise have not received a gift at Christmas.
The project was started in 2012 with just a single Christmas tree outside New Scotland Yard but was soon made pan-London by Sir Bernard Hogan-Howe, Metropolitan Police Commissioner in 2014. All signs are pointing to this year being their biggest so far.
Sir Hogan-Howe said: "This is a simple idea in the spirit of Christmas. A child in need can be helped by a simple gift from someone they have never met. That person gains no recognition other than knowing they have shown some care for a child that needs a little more love than most."