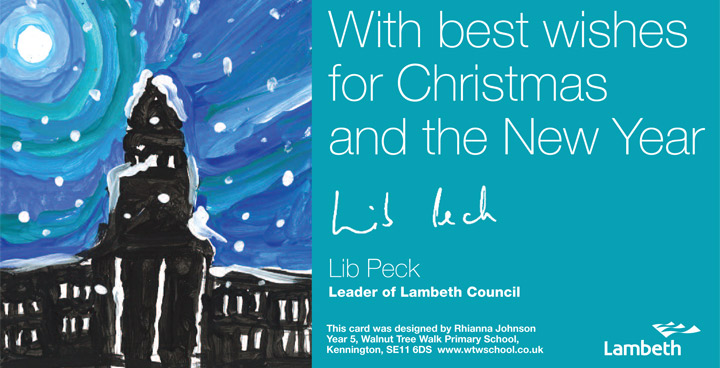 The festive season has arrived and whether you are looking for presents, shopping for ingredients or celebrating with family or friends you need look no further than Lambeth. You'll find great shopping and fantastic entertainment in every corner of the borough.
Here are some of the festive events happening this week:
Southbank Centre Winter Festival
Throughout December
Award-winning entertainment for all ages, pathways of twinkling lights, bustling riverside markets offering food, drinks and gift ideas, a retro roller disco and their famous Vintage New Year's Eve Party.
Southbank Centre, Belvedere Road, SE1 8XX
Visit www.southbankcentre.co.uk
Mak-Orations Festive Craft Nights
Thursdays 17 December, 6 – 8pm.
Start the festive countdown with AfroRetro and Black Cultural Archives.  Join Ugandan Sisters, Anna and Lilly in a festive explosion of crafting, UpCyling and making – Uganglish style!  Create a colourful array of festive decorations from three dimensional fabric stars to fabric paper chains and much, much, more.
Visit bcaheritage.org.uk
Twist On Station Rise
Thursday 17 December, 3pm- 8pm, FREE.
Discover street food, organic produce, handmade products, affordable gifts and custom-made furniture that showcase local skills and culture.
Station Rise, Tulse Hill, SE27.
Visit www.twistonstationrise.co.uk
We Knit Waterloo: Children's pom-pom making
Thursday 17 December, 3.30 to 5.50pm, FREE.
Children and their carers are invited to make pom-poms which will be used to decorate the Waterloo Christmas tree.
Little Marshans, 120-119 Lower Marsh, SE1 7AE.
Ticket info@wearewaterloo.co.uk
We Knit Waterloo: Knitting event
Thursday 17 December, 6.30 to 8pm, FREE.
Christmas drinks and nibbles and lots of knitting! If knitting is not for you, you can still join us, there are many other ways you can support this project.
Love & Scandal, 107 Lower Marsh, SE1 7AB.
Ticket info@wearewaterloo.co.uk
Christmas Ceilidh
Friday 18 December, 7pm, £7 adults, £6 concessions.
Festive music and dance extravaganza featuring stomping fiddles and a caller to show you the moves.
The Portico Gallery, 23a Knights Hill, West Norwood, SE27 0HS.
Tickets www.folkofthewood.co.uk/xmas.html
Coin Street family Christmas party
Saturday 19 December, 1 – 4pm, FREE.
For families with children aged eight and under. Get creative and join the Coin Street team for an afternoon of festive fun including minced pie making, arts and crafts and a reindeer hunt.
Coin Street Neighbourhood Centre, 108 Stamford Street, SE1 9NH.
Visit www.coinstreet.org or call 020 7021 1600.
Father Christmas at the Windmill
Saturday 19 December, 1 – 4pm, £2 per child.
Visit Santa in his unique grotto at Brixton Windmill. Keep warm with mulled wine and join in the fun at the children's Christmas decorations workshop in the Stay and Play building.
Windmill Gardens, West end of Blenheim Gardens, SW2 5EU.
Visit www.brixtonwindmill.org
It's Your Local Market: Green Seasons Greetings
Saturday 19 December, noon – 5pm, FREE.
A new urban sustainable market, that takes place every Saturday. You'll find a variety street food, fresh produce, arts and crafts, community information, workshops and entertainment.
St Johns Angell Town, 49 Wiltshire Road, SW9 7NE.
Streatham Common Co-operative: Christmas Fair
Sunday 20 December, 11am – 3pm, £2 adults/children free.
Tempting craft and food stalls and to truly get you in the festive spirt there will be a Santa's Grotto and Christmas carols.
The Rookery, Streatham Common, SW16.
For more information about events in Lambeth, visit www.eventlambeth.co.uk/christmas