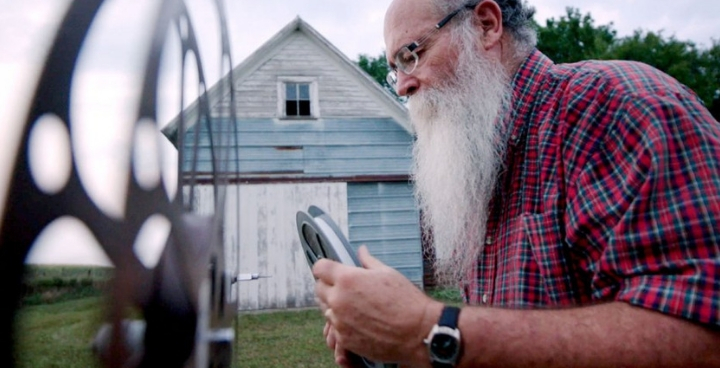 Lambeth's Cinema Museum presents a fund-raising screening of Saving Brinton (2017), a documentary about retired Iowa Teacher of the Year Michael Zahs, who makes a remarkable discovery — the century-old films that introduced middle America to the movies. These treasures from Georges Méliés, Thomas Edison and the Lumiere Brothers have somehow survived the ravages of time, and Mike quickly realizes their value, not just to cinephiles, but to his rural community, who rally to put on a show celebrating the legacy of America's greatest barnstorming movieman, Frank Brinton.
Save the Museum
This is a fundraising screening, with all profits from the evening going to the 'Save the Cinema Museum' Campaign.
Film fans
Fans and supporters of the cinema museum Helen Atkinson and Neil Callen don't work in the movie business but brought the film to Lambeth. "We came across 'Saving Brinton' at Rotterdam Film Festival and immediately thought of screening it here as a fundraiser. It chimes completely with the values of The Cinema Museum – a beautiful story about a man who single -handedly rescues an important collection of cinema history in the American Mid-West.
Magical moment
"The film features a magical moment where a Georges Melies film thought to be lost forever is rediscovered. We were lucky enough to meet the film makers and they are incredibly excited to be associated with the Save the Cinema Museum campaign.
Perfect place
"The Cinema museum is an integral part of Lambeth history. It's housed in the 1873 Lambeth Workhouse, It's an extremely appropriate home for the Cinema Museum – the Workhouse's most famous resident was Charlie Chaplin. A lease extension has been granted but the Museum's future is by no means guaranteed. We wanted to show our support.
For movie lovers
"We defy anyone to leave 'Saving Brinton' without a warm glow inside and maybe a tear in their eye."
---
For more information
Book tickets online via billetto
The screening will include special features supplied by the film makers Tommy Haines and Andrew Sherburne to support the Save the Cinema Museum Campaign.
See the trailer
Add your comments on the film viaTwitter