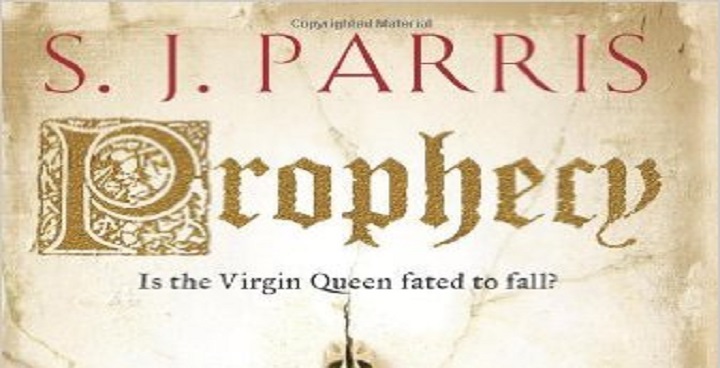 In April, Lambeth Libraries will be taking part in this year's Cityread London. Cityread unites London every year by inviting the whole capital to read the same book together. We also have the Cityread flagship event in Lambeth this year – at Lambeth Palace. This will be a fantastic night for all Lambeth readers.
Every April, more than 30,000 Londoners take part in a shared, cultural experience that connects us to each other and the city we call home. Cityreaders are encouraged into libraries and bookshops, museums and cinemas to explore, understand and celebrate London through its stories.
Cityreader's book of the year
This year's book is Prophecy by S.J. Parris, an Elizabethan crime novel – the sequel to Heresy.
"A young maid of honour has been murdered, strange occult symbols carved into her flesh. The queen's spymaster, Walsingham, suspects links to a plot to overthrow the crown and calls on international man of mystery, Giordano Bruno to help him uncover the truth."
Flagship event at Lambeth Palace
Lambeth hosts the Cityread festival highlight on Wednesday 19 April as Prophecy writer S.J. Parris (pen name of journalist, author and literary critic Stephanie Merritt) swaps Elizabethan stories with historian and author of The Private Lives of the Tudors Tracy Borman in the glorious setting of the Great Hall at Lambeth Palace, Lambeth Palace Rd, Lambeth, London SE1 7JU. On display will be the execution warrant of Mary Queen of Scots, with other Elizabethan books and manuscripts from the collections of Lambeth Palace Library. Tickets £10 in advance from www.cityread.london, includes a glass of wine on arrival.
A month of Cityread
Find out more about our month long programme of events starting on March 31 with a 1,000 book Prophecy giveaway at The Golden Hinde (Sir Francis Drake's Elizabethan Privateer, and the first British ship to sail around the world), and including a specially commissioned immersive theatre production at the Charterhouse, based on Prophecy and offering the audience the chance to join Walsingham's ring of spies; Tudor foodie events including a 'history of gin' workshop and a medieval feast; as well as more opportunities to meet SJ Parris; and historical and author focused events across Greater London, Reading and Slough. These include writing workshop for people inspired to  write their own historical novel.
---
For details of what's happening  in CityRead see our month long programme of events