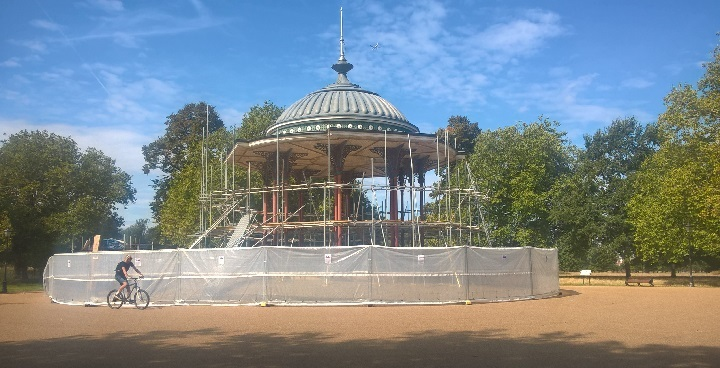 The Clapham Common Bandstand, one of the oldest and largest in Greater London, will celebrate its 130th year in 2020. Clapham Common Management Advisory Committee (CCMAC) and Lambeth Council agreed we'd like to see the Bandstand ready for this important event so it's  temporarily closed from 27 August for up to six weeks for a well-deserved makeover. We'll be able to clean and repaint its roof, columns, balustrades and flooring. The funding is secured through the Lambeth Parks Investment Levy (PIL) – money paid by promoters who run large-scale events on the Common.
Restoration time
During this period the Bandstand can't be open to the public, so please bear with us while we get it looking clean and ready for everybody to use and enjoy again, especially for the big events planned for 2020.
Help keep it safe
Please respect the security fencing so our contractors can get on with their work undisturbed. It's especially important children and dogs are kept away and off any fencing, or from inside the works area; please supervise them. There are notices on the protective fencing surrounding the bandstand explaining what to do if you see anyone trying to get in and how to let us know if there are any gaps or points of access in the protective fencing and hat we need to secure or close to keep everyone safe.
Experienced contractors
The contractors undertaking the restoration work are Alfred Bagnall and Sons, and the architectural consultants are Dannatt, Johnson Architects (DJA), who were involved in the Bandstand's original restoration (apid for by the Heritage Lottery Fund) back in 2005 .
More information
For more about the works information please contact Lambeth Landscapes on 020 7926 9000 or parks@lambeth.gov.uk
For more about Clapham Common Management Committee see their information pages
Stay tuned for more details of Bandstand events for 2020.