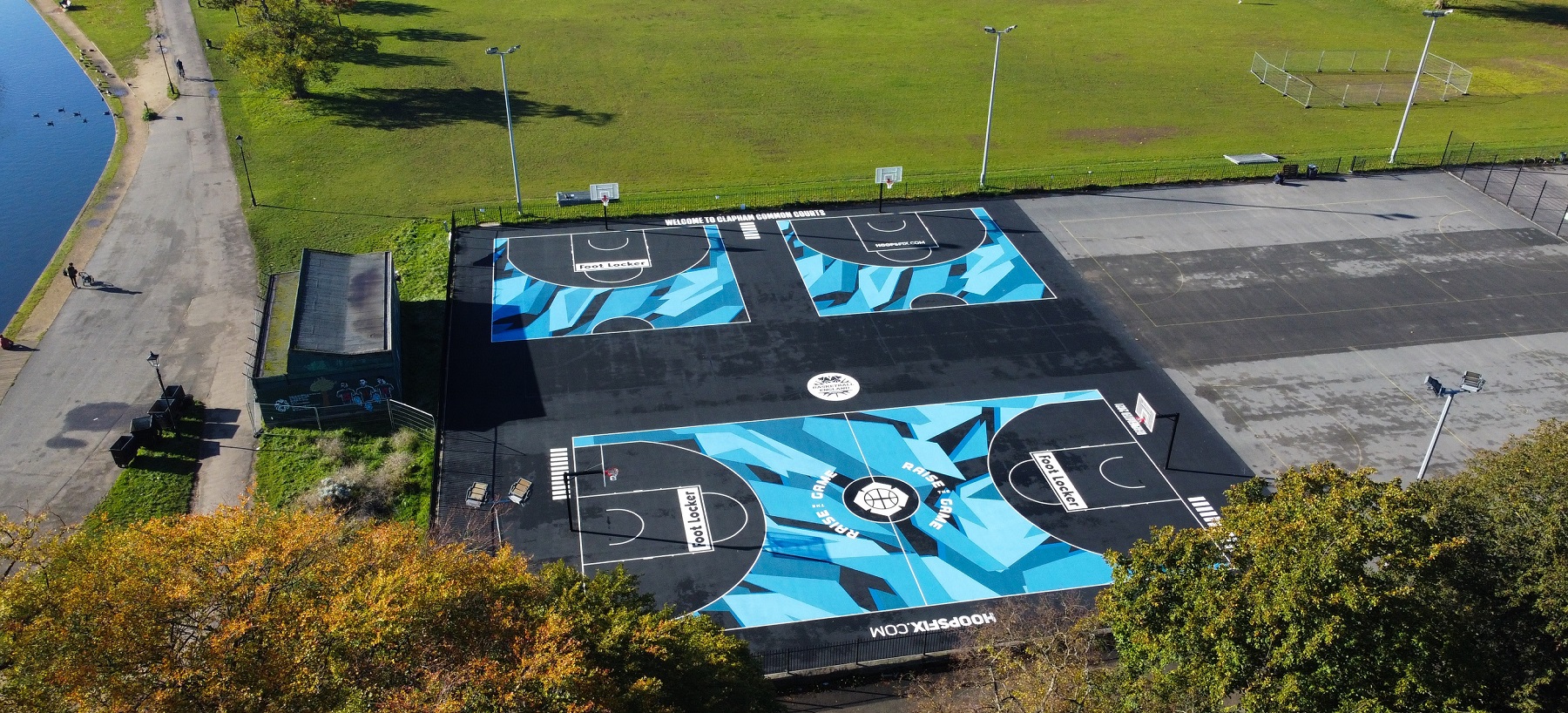 The newly refurbished Clapham Common Basketball Court is part of ongoing international basketball community program 'Raise the Game', sponsored by sportswear company Foot Locker. Clapham's updated court joins Paris' Baltizone, Milan's Via Lazio, and Poblenou in Barcelona as a way to empower local communities and bring people together.
Colourful and unique
The inspiration for the design reflects the colourful and unique style of its neighbourhood. Lambeth Council, which owns and manages the site, worked in partnership with Basketball England, Hoopsfix, and the National Basketball Association (NBA).
Word from the Cabinet
Cllr Donatus Anyanwu, Lambeth Council's Cabinet Member for the Voluntary Sector and Leisure, said: "This is a great project that we have wholeheartedly supported and we thank all involved for their efforts here because this council owned and managed site is incredibly popular among local young people.
"The design by the former Brixton Topcats player and artist Sevian Witter is brilliant, and I'm glad Lambeth Council was able to play its role in seeing this exciting piece of work completed."
Local launch
Invited South London basketball teams and players took part in shooting contests, competitions, coaching sessions, and scrimmages at a launch event on Sunday 7 November.
Sam Neter, Hoopsfix founder, said: "I'm looking forward to Clapham Common becoming a hub of basketball activity and being able to run our own events there every summer!"
Susie Kuhn of Foot Locker commented: "Basketball continues to be a key pillar – it represents community, inclusivity, hope and empowerment."
Basketball England's Pete Griffiths said: "It's fantastic to see this great collaboration come to fruition in such a stunning way for the benefit of basketball. The courts look amazing and will be a huge asset to the community and the sport. The great work done here by all involved sets the bar really high for what can be achieved through partnership, hard work and imagination."
More information