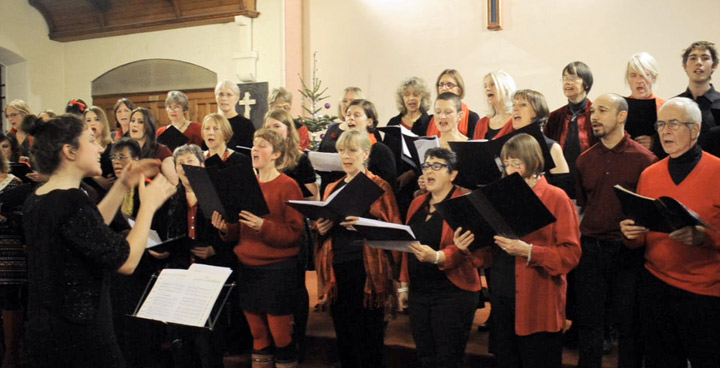 Clapham Community Choir is an enthusiastic choir of diverse voices, founded six years ago by Jessie Maryon Davies. In  September the baton of choir director passed to Adam Saunders, another experienced choir leader and composer.
Some members can read music, others can't: this is not a requirement, nor an obstacle, as the choir learns in all ways, by listening, understanding and singing. There is a great range of musical experience within the choir, and a spirit of friendly support and cooperation.
The range of music sung is very wide indeed, almost infinitely so: from Mozart to Zulu lullabies, via Carole King and Britten! In 2014 the choir 'adopted' young composer Mak Murtic under a national sponsorship scheme, resulting in an exciting modern work that was recorded by BBC Radio 3.
The choir puts on a concert at Christmas and at the end of the spring and summer terms. Performance opportunities go further than that, however, and the choir has sung with other choirs in the Royal Festival Hall and at the Young Vic.
Choir members get a lot of pleasure from learning and performing a great variety of musical styles, making new social contacts along the way. "It's opened up a part of my life I didn't know I had", is the sort of comment often heard.
The choir sings on Tuesday evenings at St Paul's Church, Rectory Grove, SW4 0DX. New members are very welcome.
For more information, visit claphamcommunitychoir@gmail.com