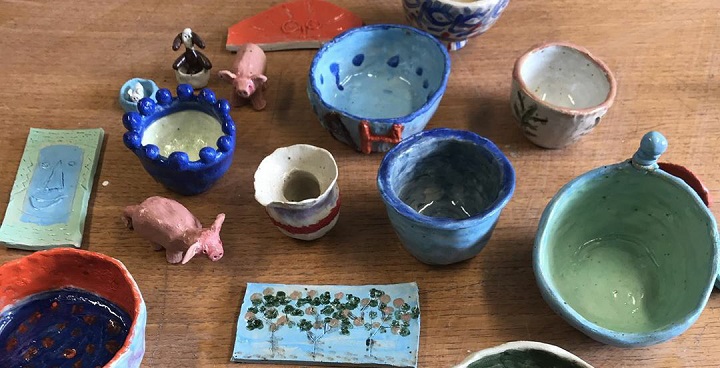 Here at Mud Gang, we love making with clay. We're a small pottery studio based at Hart Club in Lambeth and we've recently launched pottery kits for people to make at home. We believe that working with clay is a great way of engaging your mind and body and using making something creative to take your mind off other things.
Inspire the next generation
We want to inspire the next generation of makers and give them the opportunity to try something they perhaps wouldn't have otherwise been able to give a go!
Crowdfunder and charity
We know that during the Covid-19 pandemic, some children really worry about parents out at work. We asked The Childhood Trust to help us get 50 activity kits to children in Brixton who receive free school meals. We started a crowdfunder to raise £1500 to cover the cost of that first wave of 50 kits. Included in the kits are a set of instructions, a simple tool, 1kg of clay, 2 toothpicks and 2 colours of underglaze to decorate with. The pieces can then be carefully returned to us to be fired and glazed in transparent glaze and treasured forever! We also share detailed tutorials via our instagram@mudgang_pottery.
Targets
The Childhood Trust got the first clay kits to kids at the Max Roach Park One O'Clock Club. We met our original crowdfunder target and more, and we're using the stretch target and keeping our promise to get more kits to our community, including some via 198 Arts and Learning Gallery.
Outreach plans
This is our first real community outreach project, and we want to do more. We've already run drop-in workshops in a neurodiverse gallery, for claymakers to try out, and we hope to expand so we can have an after-school club for pottery, sessions for the over-65s, who can't pay for private studio space.
More information
For more about Mud Gang, including their crowdfunder, visit our website or contact mudgangpottery@gmail.com