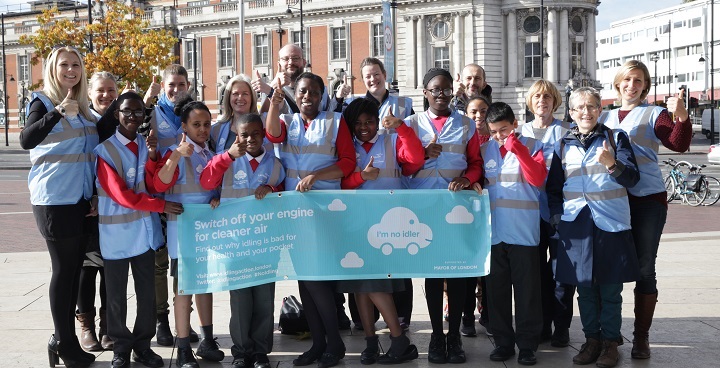 Local authorities, businesses and charities across the country are gearing up for National Clean Air Day, on 20 June 2019. This year we will continue to celebrate the Day with Lambeth Clean Air Week 2019 (LCAW19), a week full of inspirational events to raise awareness of pollution issues and empower people to improve air quality in our Borough.
Air Quality Action Plan
Did you know? Lambeth has a package of measures already in place to minimise air pollution. Find out more about our Air Quality Action Plan.
What events will be taking place?
Monday 17 June: On behalf of Lambeth, @Sustrans will engage in what we have called the "Monday Marathon". They will travel to schools in Lambeth and carry out a series of activities, including clean air walks and anti-idling events, to teach young people about reducing air pollution. In line with the spirit of Clean Air Week, they will travel sustainability between schools! Follow their journey on Twitter at: #LCAW19.
Tuesday 18 June: Tuesday will be "communications day". We will be on our Twitter channel for a live Q&A session from 10am to 4pm, to answer any questions citizens have about air quality. We will post informative tweets and clean air pledges, to raise awareness about air pollution and inspire people to improve air quality. You can post your questions to @lambeth_council using #LCAW19
Wednesday 19th June: We will meet the Air Quality Action Plan steering group at the Town Hall and discuss our progress to deliver the actions set out in our Air Quality Action Plan.
Thursday 20 June: Today is the day! On Clean Air Day, we will use our communications channels to encourage our staff, Councillors and citizens to leave their car at home and use sustainable transport.

At lunchtime (12.30-1.30) the community and our staff will come together for a "Clean Air Week Walk", heading to Brockwell Park from Windrush Square at 12.30pm. To take part just turn up. Don't forget to post your photos on Twitter using #LCAW19
At 3pm, we will organise an anti-idling event in Vauxhall to encourage drivers to switch off the engine when stationary. If you would like to volunteer to take part in our anti-idling project please email us at sustainability@lambeth.gov.uk You can also take part by tweeting us at @Lambeth_Council using the hashtag #LCAW19.
In the evening, we will be at the Town Hall at 6pm in Room THG-14 for our annual resident engagement event, where we will answer their questions around air pollution in Lambeth and what the Council is doing to tackle the issue.
Friday 21 June: Air pollution is not only hazardous to human health, it also affects businesses. To close the week, we will organise a business networking event in the Court yard by the Registry office behind the Town Hall. We will also have a meeting with councillors and business representatives that have taken part in the Defra funded Clean Air Villages Project which Lambeth has been leading on.
Clean Air doesn't stop there
Clean Air Day is a great opportunity to raise awareness about London's air quality, but our commitment to clean air should not stop here. Here is a list of simple things you can do to improve air quality, all year round.
Get involved!
Do you want to be involved in our initiatives, or have already arranged your own activity and would like us to promote it? If so, we would love to hear from you! Drop us an email at mailto:sustainability@lambeth.gov.ukand don't forget to follow and use the official hashtag of the event #LCAW19 .