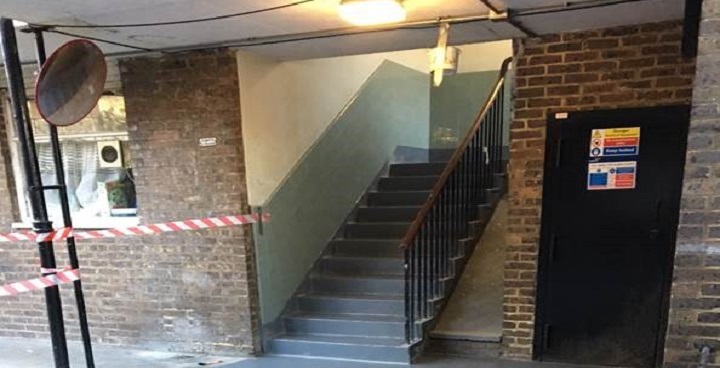 In January 2017, Lambeth's Estate Pride team called in an innovative nano-technology solution to clear up a messy problem.
Argos Court was the first place in Lambeth to try an alternative to the time-consuming cleaning up of human urine on stairwells. It's not just the hard work – it soaks into the building and the ammonia smell never really goes away.
New coat
Urine smells and stains where people are going in and out of their homes damage the building as well as being anti-social behaviour.
Alpha Nano Solutions offered a way to make the clean-up job quicker and more efficient by coating the walls and floors with new, stain- and smell-resistant coatings.
Council Estate Housing Officers helped make the job as obstacle-free as possible by moving bicycles out of the stairwells while resurfacing went ahead.
The treatment
The walls were jet-washed and disinfected before ALPHA Stone was spray-applied. Floors and steps were jet-washed and wire brushed, with all cracks tilled with resin and detail areas like skirting and risers taped off before ALPHA Floor BW was applied to provide a durable, anti-slip and waterproof flooring solution. In all, 30 square metres of the walkways were protected, including the first floor stairs and landing.
How it works
ALPHA Stone is an invisible nano-impregnator that protects brickwork and masonry against both water damage and environmental soiling. It penetrates deep into the pores and capillaries of stone, letting the material breathe but keeping liquid out.    This makes the treated surface water, dirt and pollutant repellent, – reducing the cost of cleaning. Because both products are  applied with no heat the treatment meets Health & Safety standards for both operatives and the public. The new ALPHA Floor BW floor surface can we walked on less than an hour after it's down
Is your estate in need of Alpha TLC?
The experiment at Argos Court passed the test. The area has been totally transformed and local residents say have said how much happier they are with a clean walkway.
Estate Pride would like to hear from other estates where the same solution could work. If your walls and walkways get turned into a public toilet, contact Estate Pride and let them know about the problem. We can never promise to fix every problem, but we do depend on residents to help us find out where priority areas are.
For more about alphanano solutions and their answers to environmental issues see their web site.