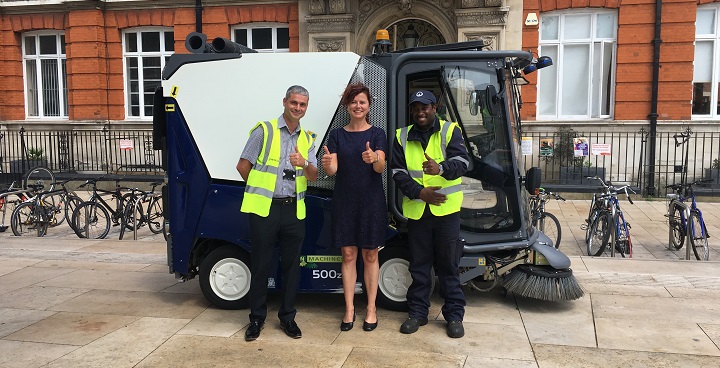 Lambeth has some of the highest levels of air pollution in the UK. As a council, we know that residents' health is at risk and we are determined to improve the air quality in our borough.
Poor air quality affects us all, but disproportionately it is the very old and young and individuals with existing heart and respiratory conditions that suffer the most.
It is an invisible killer.
Clean Air Week 2018
There is a huge amount of activity going on this week to highlight the issue, improve air quality in the long term and protect the most vulnerable residents from its harmful effects.
Lambeth's sustainable travel partners Sustrans are touring Lambeth primary schools, engaging young children on the issue of air quality and encouraging more sustainable travel.
Another 'green screen' is being installed to help protect school children at Corpus Christi school in Brixton.
The Idling Action campaign will be in Brixton on Thursday, encouraging drivers to turn their engines off when stationary and handing out information on how harmful engine idling is for the environment.
Businesses are engaging with the issue, with Business Improvement Districts such as Brixton BID discussing what businesses can do to improve air quality.
Council staff will be taking part in a clean air walk in Brixton to highlight poor air quality.
A resident's engagement event at Lambeth Town Hall will offer advice and discuss council policy, and an advice session with Repowering London at the Civic Centre aims to help people save energy at home.
How can we all play our part?
We can all do our bit to help improve air quality. Here are five simple things we should try to stick to:
Walk or cycle more often
Cut down on journeys by car
Turn car engines off when stationary
Get personal deliveries to a collection facility like Doddle or CollectPlus to reduce delivery journeys. Visit clickcollect.london to find your nearest
Shop local to reduce travel time
Air Quality Action Plan
As a council, we have developed an Air Quality Action Plan that aims to work with residents, businesses, campaign groups, government and the Mayor of London to clean up our air.
Find out more at www.lambeth.gov.uk/air-quality and if you want to get involved, e-mail us at sustainability@lambeth.gov.uk