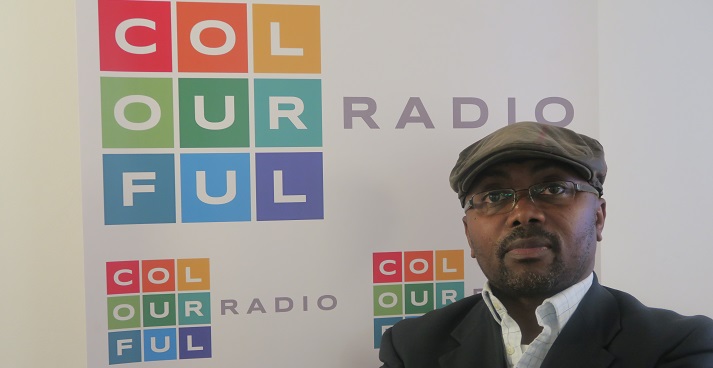 How did you start 'Colourful'?
I started Colourful Radio in 2002 as an 'internet audio stream' (now widely known as internet radio). This was at a time when streaming technology was in its infancy. Colourful Radio was probably the first commercial internet radio station in the UK. I hoped to provide a conversation platform for under-represented communities completely excluded – or absent – from life-changing public debate and activity to become involved.
How can we listen to your programmes?
Colourful Radio is accessible across multiple platforms currently including digital radio, apps, mobile, and social media. From 2017, Colourful Radio will be pseudo-national, broadcasting across a number of towns and cities in the UK including London.
 Give us 3 highlights in the weekly schedule
Our audio documentaries titled The Greats. Produced in-house The Greats is a profile of some of the biggest musicians of our lifetime but ones you won't hear about elsewhere.
Our weekday mid-morning slots, all hosted by women. If you look across radio you will almost always see a skewed talent line-up as though women and other races didn't exist. So, from day one, I made it a mission to attract talented women to our mid-morning slots.
A new comedy drama titled Barking Mad, which airs Sundays at noon. Created, written and produced by 4 sisters, comedic drama Barking Mad follows the lives of a couple in their mid-thirties struggling to make ends meet in the craziness of a struggling town.
What opportunities do you offer to your audience to connect with your radio?
We've recently completed a run of live broadcasts supporting British Urban Film Festival 2016 which saw Colourful Radio broadcast live from Channel 4 Television HQ. We supported Lambeth Community Pride Awards 2016 by broadcasting the event live for the first time ever. The whole point was to ensure that residents who weren't able to attend did not to miss a thing. We also love giving away prizes free. We've just completed a competition prize giveaway for our listeners to enjoy a week away in a cottage free!
How can we get involved
By tuning in, sharing the station with friends and family, or by applying for roles on mic or behind the scenes. Just go to  and click play to begin listening, contact us or just follow us on any social media using the handle 'colourfulradio'.