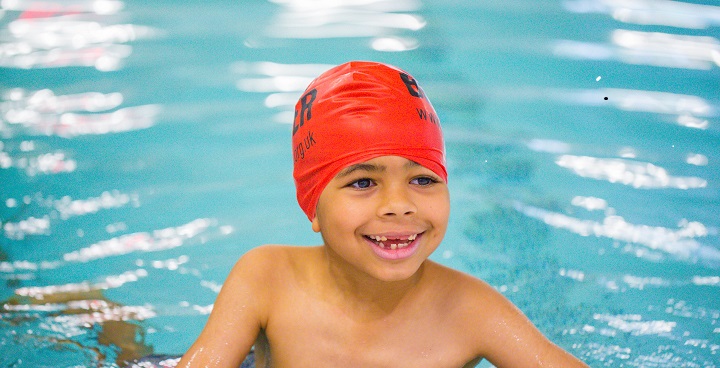 Swimming lessons are back: Brixton, Clapham, West Norwood, Streatham and Vauxhall Leisure Centres reopened their doors on 12 April.
Word from the Cabinet
Cllr Donatus Anyanwu,  Lambeth's Cabinet Member for Voluntary Sector and Sport, said: "I'm delighted that children's swimming lessons have resumed in Lambeth and I'd encourage families in the borough to take this opportunity to dive in. We have pools across the borough and swimming has loads of health benefits so I'm also pleased that there is such a wide range of lessons available to our residents."
Classes for every child
Following customer research and our own experience of running the UK's largest Swim School, we've updated classes into a programme focused on natural and progressive milestones for every child to become the best swimmer possible.
SWIMBiES  (3 months – 3 years)
Bond with your baby and have fun in the water one milestone at a time. As a parent, grandparent or guardian, share first splashes, laughs and fun in the pool with trained and qualified SWIMBiES Teachers every step of the way preparing for a lifetime loving the water.  Visit Swimbies
Pre-school (3 – 4 years)
Covid safety guidelines mean adults must now support their child in the water for this class. Developing water confidence, introducing skills to develop safe and confident independent swimmers, ready for Foundation classes. Book here
Junior (4 years+)
A programme of skills and distance achievements for every child, learning all 4 strokes, and achieving 10 metres on Front Crawl and Backstroke by the end of their Green milestones.
Foundation – for children aged 4 and over, plus specific Foundation classes for 9 and older and Teenagers.
Development – Advanced techniques on all 4 strokes after to create efficient, effective swimmers. Lessons focus on a wide range of skills across all aquatic sports,  water survival and rescue skills. We'll work with partner clubs to assess each pupil's ability to progress in talent pathways.
Academy– Supporting and developing swimmers who complete the Development Class to achieve personal goals in fitness swimming, survival and junior lifesaving plus other aquatic sports. We'll continue to work to assess pupils' ability to progress.
Disability and 1-2- 1 lessons
Everyone's welcome to learn swimming at Better. Where possible, we integrate children with disabilities into existing lessons. Where not, we offer 1-2-1 lessons for children and adults. Disability group lessons should restart 17 May in line with government guidelines. Visit our swimming lessons page
"Pool ready"
Covid-secure measures include asking pupils to arrive "pool ready" to minimise time in changing rooms, staggered arrival times and a one-way system to and from classes, social distancing and masks for adults. Lesson plans have been adapted to ensure social distancing, close or actual contact will be avoided, and all equipment is cleaned before and after. Swimming teachers have had extra training in Covid-Secure protocols.
School Swimming
Lambeth schools can book intensive two weeks (10 days) of daily 60 minute lessons, building skills daily to enhance results and water confidence through repetition with minimal disruption (compared with weekly lessons) to the final term of School. Ask your child's school if they have signed up!
More information
See Better's booking lessons pages