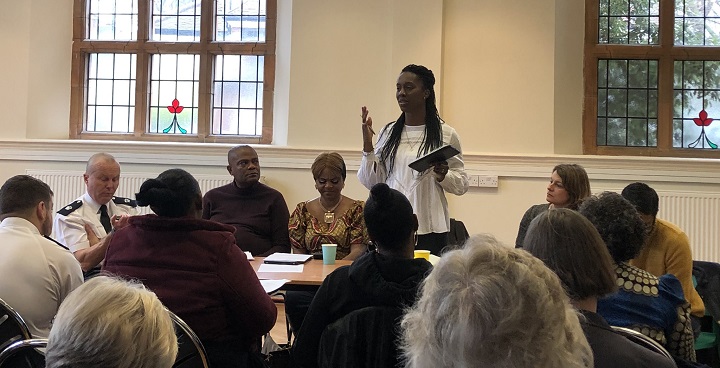 The meeting was called by local councillors in Herne Hill and was held at the Carnegie Library. It was chaired by Councillor Pauline George, with speakers including Helen Hayes MP for Dulwich and West Norwood, Florence Eshalomi London Assembly Member for Lambeth and Southwark, Cllr Mohammed Seedat Lambeth Cabinet member for Community Safety, Sean Oxley Police Superintendent Lambeth and Pastor Peter Adigun Province Head, Celestial Church of Christ Loughborough Junction.
The meeting focused on eight key themes that need to be tackled to reduce violence:Poverty including in work-poverty:
Parents working long hours, paid less than minimum wage unable to pay bills and spend time with their children. Housing shortage resulting in over crowding, homelessness, living in hostels and temptations to hang out on the streets to engage in drug sales and trafficking for extra money and joining gangs.
Youth Provisions, lack of youth clubs due to reduction of Government funding. Reduction in holiday clubs consequently youths looking for alternatives such as Gang Clubs
School exclusion with disproportionate black youths compared with other groups
Lack of Role Models: increasing BAME representations in schools and colleges and local positions of authority to provide young people with a voice and role models. Media to report positive stories about Young black youths instead of negativity.
Mental health Support
Opportunities for young people such as apprenticeship and jobs. Florence Eshalomi planned to look into establishing a national data base for work experience opportunities for youths that is easily accessible. Tuition fee making university undesirable and unaffordable for poor people.
Policing: not enough Police on the streets due to Government cuttings, Police needing to engage with the community better and understanding the backgrounds of this youths. Providing more trainings for the Police which is almost impossible due to reduction in funding by the Tory Government.
Stop and Search approach with dignity and respect for the people subjected to search. Mandatory that police should switch on body camera during stop and search. Requirement for police to prevent sales of knifes to minors
The meeting collectively agreed to set up the Positive Future Lambeth Forum, which would have a monthly meeting on the above themes to look at how the community can help to deliver these improvements.
Councillor Mohammed Seedat, Cabinet member for the Voluntary Sector, Partnerships & Community Safety said: "It was a very welcome opportunity to have an honest and open conversation about violence affecting our young people and the wider problems in our community about violence against women & girls, the destructive effects of the drug trade, cuts to services and the negative disproportional impact on our black and ethnic minority communities. I hope this will be the beginning of a long journey to make all our communities prosper."
The next public meeting for the newly formed forum Positive Future 'Lambeth' Forum will be on Saturday 20 April 2019 Easter Bank holiday weekend at Carnegie Library from 12 to 14.00.