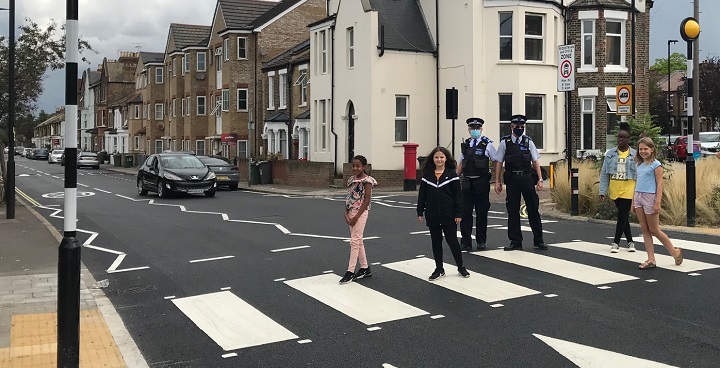 A partnership between Lambeth Council, parents and school supporters, and the 999 services has agreed to boost safety on Milkwood Road, and a new road crossing at the junction of Lowden Road installed by Lambeth opened on 14 August.
Traffic calming
Lambeth's project manager explains: "The local community has campaigned for traffic calming between Herne Hill and Loughborough Junction because Milkwood is one of Lambeth's fastest roads, with a long straight stretch where cars overtake. It's easy for drivers to imagine there'll be nobody walking, because all you see is the industrial estate and the community park. In fact there are two schools. One is the Michael Tippett School for children with special needs.
Word from the Cabinet
Cllr Claire Holland, Deputy Leader (Sustainable Transport, Environment & Clean Air) said: "I'm really pleased that we have been able to make Milkwood Road safer by working with our partners in the London Ambulance Service to get traffic calming and a new zebra crossing installed. I took a walk to school with parents whose children were pupils at Jessop Primary School last year and I saw first-hand their difficulties. I'm delighted we could get this done and make that journey much safer."
Emergency calls
Milkwood Road's Mahatma Gandhi Industrial estate is home to an emergency ambulance station. Lambeth invited them to join in the planning process. The Ambulance Service confirmed regular speed humps could make the road safer for children but impact negatively on their safety work, slowing down the deployment of emergency rescue vehicles. After more council-led research, all agreed the council should add three new speed humps – enough to slow down racing traffic while letting ambulances get out on life-saving 999 call-outs. One of the speed humps will be painted to create the new road crossing, as part of planned road surface improvement.
More information
Funding for this safety project comes from the Council's Highways Improvement, Speed Reduction and Road Danger Reduction programmes, funded by Transport for London. The timing was chosen to make sure road safety is in place in time for the new school year.