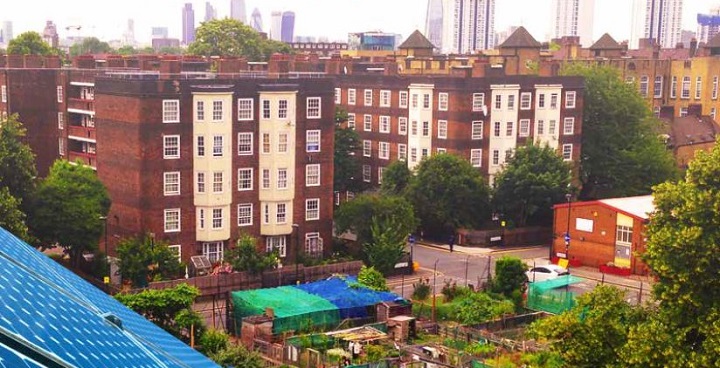 Vauxhall Energy is proud to announce the launch of a community share offer, allowing Vauxhall residents to spearhead the renewables revolution.
Vauxhall Energy will install solar panels on five buildings of the Vauxhall Gardens estate, generating clean, green electricity and saving 24 tonnes of CO2 every year, the equivalent of powering 17 homes.
The solar installation is financed by a community share offer and the electricity is used to power the communal areas in the buildings. Anyone can invest in Vauxhall Energy and income from the project pays a small return to investors at an average 3% return. Almost 50% of net profits going towards a community fund that will be used to support projects on the Vauxhall Gardens Estate.
'Incredibly positive response'
Liz Cox, Vauxhall Energy Director said: "We have been knocking on doors and we've received an incredibly positive response for this project, people want to see solar panels on the roofs and want a stake in improving the area."
Vauxhall Energy has been developed by local residents, Repowering London and has been supported by Lambeth Council. The project has already supported 9 young people through a paid internship programme and offers work placements for local tradespeople during the solar panel install.
Partners, ENGIE, have been vital to the project providing their technical expertise and agreeing to allocate £15,000 towards the cost of installation from their local Facilities Management contract.
Afsheen Rashid MBE, Co-CEO of Repowering London said: "Vauxhall Energy is unique in this current landscape given the reduced Government support for renewable energy. We are proving the resilience of community energy that is here to stay. The project brings together the public and private sector alongside the community. The project could not have happened without the support of our partners Lambeth Council and ENGIE."
Jamie Quinn, Corporate Responsibility and Environment Director, ENGIE said: "ENGIE has partnered with Repowering for the last two years and is proud to be supporting the Vauxhall project which aligns perfectly with our purpose to improve lives through better living and working environments. We are supporting the project through our renewable capabilities as well as financially through an ENGIE and London Borough of Lambeth Community Fund, which was established as part of our facilities management contract in the borough."
About the Vauxhall Energy share offer
Each share in Vauxhall Energy has a nominal value of £1. The minimum shareholding for Vauxhall Gardens Estate residents is £50, and for interested investors £250.
Investor members will receive interest payments, estimated at 3% average annual rate of return.
The 65 kWp system will be capable of generating an estimated 53,000 kWh of energy per year, leading to carbon savings of 24 tonnes per annum.
Share offer closes on 31st May 2018
To invest please visit repowering.org.uk/vauxhall
The solar panels will be installed and complete by 30th June 2018