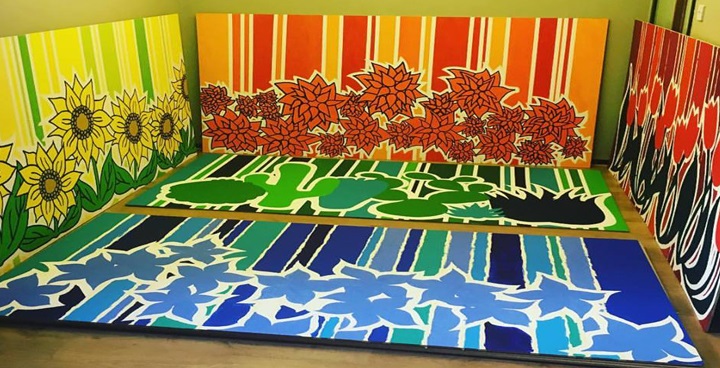 Cool it Art is a not-for-profit organisation providing free creative opportunities for the community; from mural projects to animation sessions, creative workshops to pop-up-art schools. The focus of their work is weekly after-school art classes for young people (3-12 year olds) at the Vauxhall Gardens Community Centre (VGCC) on Tuesdays throughout most of the year.
Looking and learning
Over the past four years, Cool it Art has done over 60 different projects, you can see the whole list on their website – some of their recent ones in Lambeth have included mural panels for Bromfields Playground on Vauxhall Gardens Estate, signs for Southwyck House Community Hall in Brixton and – on top of the kids' classes – launching Young at 'Art weekly classes for adults at the Carmelita Centre in Vauxhall.
Recycling into art
The weekly art classes for kids at VGCC also focus on transforming everyday household junk into craft projects; proving art doesn't have to be expensive and budget doesn't have to be a barrier to creativity. From cereal box aquariums to glitter calming jars – nearly everything can be upcycled!
"My kids found it quite enjoyable and relaxing. A place to explore their artistic tendencies, a place where they don't feel judged regarding their talent. Amanda and the volunteers are very kind and patient with the kids. it is a wonderful place to be"  – Angela, parent at VGCC class.
Be part of the art
How can you benefit from Cool it Art?
For young people: Check the children's art classes at VGCC. If you can't get to Vauxhall, you can use Cool it's free teaching packs with step-by-step guides on how to create art projects at home – teaching packs can be found on the Cool it Art website – www.coolitart.com.
For adults: Young at 'Art classes will be launching again over the Summer; a chance to be creative, meet new friends and enjoy a cup of tea.  Book by email on coolitartclasses@gmail.com