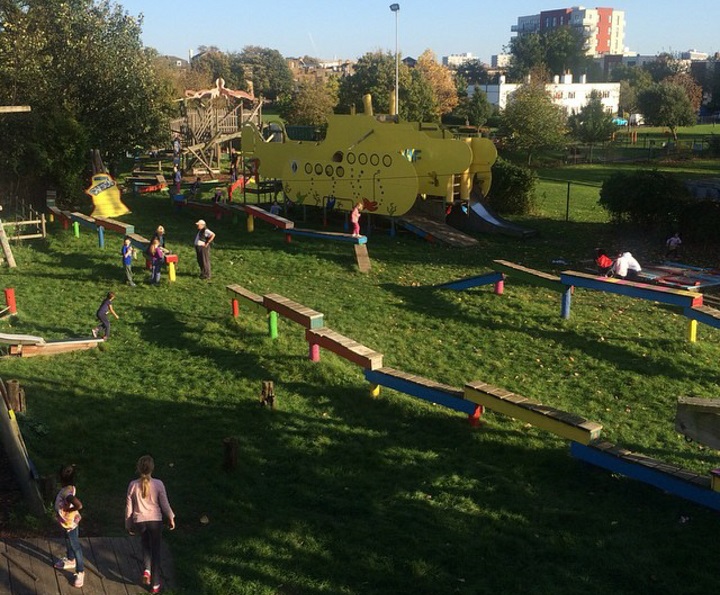 Slade Gardens Adventure Playground is a great place for children between the ages of 7-19, a rare open space covering over an acre of land with two play huts.
If you want you can grow veg or go to the tuck shop, play football outside or table football, draw, paint (yourself or paper!) bang a drum or be a clown, go on a zip line or swing on board the pirate ship, take risks as we believe taking risks leads to responsibility.
What is the playground offering to the teenagers?
We have exciting playground structures, inside games room and an area for arts and crafts. We have a pool table, 4 table football tables, computers and table tennis, and a chance to meet other teenagers.
Can people get qualifications from attending your activities?
We provide AQA UAS which is a Unit Award Scheme which can be used with most of the Entry Level Certificate and qualification. This approach can be used as a stepping stone towards achieving a full qualification, to accredit the work done by young people. These certificates can be used towards and alongside school and college qualifications and employment.
We cover the following topics:
Table Tennis
Cooking
Gardening
Football
Sports Coach
Plus Many More.
Speak to a member of Staff.
How many teenagers attend the playground?
Depends on the day but when we are busy 30.
How can people get involved?
By turning up and enjoying yourselves!
Slade Gardens Adventure Playground
Stockwell Park Road,
London,
SW9 0AD
Tel: 020 7737 3829
Email: Sladeadventure@btinternet.com
Website: www.sladeadventure.co.uk