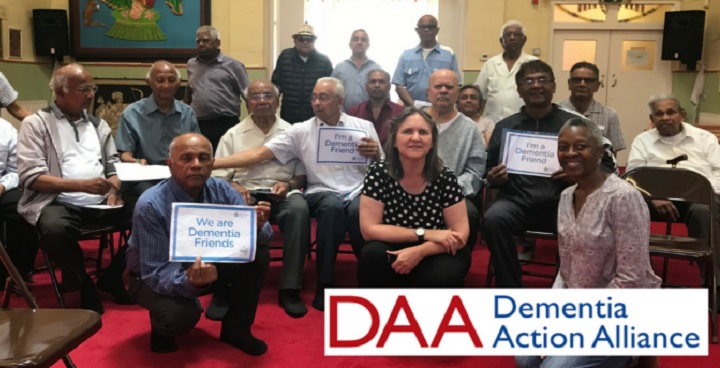 Lambeth Dementia Action Alliance have updated guidance for residents and carers – including helplines and ways to support someone day-to-day at home.
Government guidance
Government guidance is published daily and Lambeth Council's information is updated on a rolling basis.
Helplines & chat
Lambeth Council's new vulnerable person helpline is on 020 7926 2999.
Helplines with knowledgeable and understanding staff:
Alzheimer's Society 0300 222 11 22
Dementia UK Admiral Nurses 0800 888 6678
Lambeth & Southwark Alzheimer's Society 020 7735 5850
Lambeth Independent Living & Carers Partnership 020 7095 5720
Caring4carers 07939 221 484
You can chat online with other people affected by dementia Talking Point, or talk with friends/family via Skype, Face Time and Zoom. Picking up the phone and checking people are okay is extremely powerful at this time. Set up a regular time to phone.
 Getting through the day
For people who forget recent news, put a reminder by the front door about not going out and other changes due to coronavirus.
Try technology (phone alarms and 'Alexa') to set reminders about mealtimes, handwashing etc.
Move rooms throughout the day – watch films (especially musicals) in the living room, listen (dance!) to the radio in the kitchen, do jigsaws/crafts from an Activity box at the table.
Use the time to help people reminisce with ideas from Age Exchange and the Health innovation network.

Go online to find songs and photos of film/TV/music stars.
Use family photo albums/home videos/slides to start conversations.
Trigger memories with family recipes/cook books and explore ingredients, such as nutmeg, cinnamon, OXO cubes.
Look at nature (on walks or through windows) and talk about spring – blossom, green shoots, nesting birds, chicks and lambs, and feel the warm sun.
Household tasks like folding sheets/table cloths, dish cloths or dusting can generate reminiscence. Tasks like polishing that come with a scent – eg polishing cutlery or shoes – kickstart memory.
Smells help memory, so activities like making lavender bags or hand massage with fragranced hand cream can be enjoyable in two ways.
Volunteers
Many people are registering with groups like COVID-19-mutual-aid on whatsapp and facebook to help with contacting households. See Lambeth council's volunteering web page on ways to help.
 More information on dementia
Many services for people living with dementia are temporarily closed to help prevent the spread of coronavirus, but resources online include: