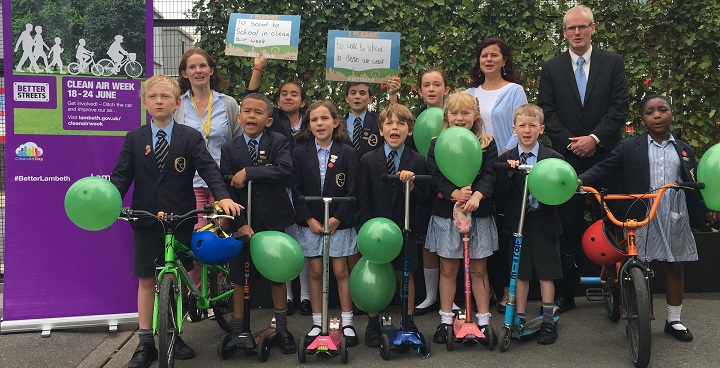 A screen of hedera ivy has been built alongside the playground of Corpus Christi primary school, blocking pollutants from Brixton Hill and enabling children to breathe cleaner air while they play.
It is the second such screen in the borough, following in the footsteps of St Helen's Primary School in Brixton that also faces a heavily polluted road.
The screen at Corpus Christi has been completed today, as part of Lambeth Clean Air Week, with three more planned in the borough within the next year as part of the council's commitment to tackling poor air quality.
Word from the Cabinet
Cllr Claire Holland, Lambeth Council cabinet member for Environment & Clean Air, said: "We are serious about improving the quality of our air and protecting our most vulnerable residents from the effects of polluted air.
"These green screens act as a shield for these young people, who are among the most susceptible to the health problems poor air quality brings.
"I'm delighted we've managed to get another green screen up in Lambeth Clean Air Week. I'll be working hard to ensure green screens are installed at all of our most at-risk schools, those alongside main roads where most of the pollution comes from."
'Significantly reduce pollution'
Co-Headteacher at Corpus Chrisi, Robert Coyle, said: "The Corpus Christi School Community is very pleased to have had a green wall installed during Lambeth Clean Air Week.
"This will significantly reduce pollution and help supress dust particles as well as improving the daily play environment for our young children.
"This would not have been possible without the Financial Support from Lambeth Council's Sustainability Team and the London Mayor's Green City Fund, as well as the tireless work from our Parent's Association Green Committee."
Benefits
As well as the Hedera Ivy screens capturing and blocking particle pollution, the screens also enhance privacy for the school, provide a valuable habitat for biodiversity, provide an opportunity for pupils to learn and engage with nature, and improve the look and feel of the school playground.
The cost of the green screen at Corpus Christi has been met by a £20,000 contribution from The Green City Fund, £10,000 from Lambeth Council sustainability team and £2,000 of fundraising by the school.