If you have a spare room and can consider supporting children in these circumstances, sign up to the next event on Thursday 21 January at 7pm to find out more.
Caring for a parent and child
'Parent and child' foster placements offer a home to a baby or young child together with their parent. Our parents tend to be new mums aged 14 years but they can also be young dads.
Your role as a carer is to provide a warm, safe family-base for the parent and child to grow and become more independent. Generally, you don't provide parental care, but facilitate the young parent to develop these skills. You will also have an important role in observing how the parent looks after their child, which will help decide when they are ready to live independently.
Who can foster?
To become a Lambeth foster carer you must be over 21 years old, have a spare bedroom, be a full-time resident in the UK (or have indefinite leave to remain) and have good spoken and written English.
Who makes a good parent and child foster carer?
People who make good parent and child carers are varied and Lambeth welcomes people from every walk of life. You may have experience of raising your own children or supporting them through your work.
The important thing is that you have the patience and dedication to support children who have been through a lot and during what can be a very challenging time in their lives.
What support will I receive?
We offer foster carers competitive fees and allowances. We also provide extensive training, you'll become part of our large community of carers and our dedicated social team will be here to support you every step of your journey. See what else makes Lambeth special.
Case studies
Meet local hero, Eliza
Eliza has been fostering for Lambeth for twenty years. She has always fostered children over 11 years old as she found caring for children with more independence made things easier for her to continue working full time.
Eliza recalls "I once cared for an unaccompanied asylum seeker from Sierra Leone who had become pregnant. She stayed with me until the baby was 18 months old and ready to move to semi-independent housing."
"I encouraged her to go back to school and helped her get a nursery place to continue her studies. She went on to University to study Social Science and is now working at St George's hospital, living in her own place. Still to this day we keep in touch and she feels like part of the family."
On her experience of caring for a mum and baby, Eliza says "The important thing about helping a new mum and baby in the early stages is to be encouraging and guide them, but not take over. Look for signs when they need a break as well as when they just need you to observe."
For other carers or people considering fostering to take on a parent and child placement, she shares these encouraging words: "Go for it! But you do need to make sure you have boundaries and respect for one another. Provide a safety net, so they know they can come to you when they need too. This takes patience, understanding, empathy and sympathy. And be yourself."
Meet local hero, Johan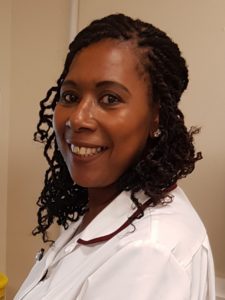 Johan, a phlebotomy nurse, started fostering for Lambeth in 2014. Motivated by her own life experiences, she wanted to show children they could be loved and cared for and a part of her family, even if they weren't her own. At the time when she started fostering, she lived with her two grown up sons who were in secondary school and university and had a range of part-time jobs working with children and young people.
Johan describes one of her mum and baby placements "I agreed to an emergency placement for a 15-year-old young lady expecting a child. She stayed with me for two years before she became pregnant again and moved on to a mother and baby unit.
"The best part of the experience for me was seeing her achieve her goals and the love she has for her children. She was a very determined young lady, she continued with her studies and got her GCSEs."
"She was also very independent and would do everything herself, such as cooking and cleaning. So when she came to me and asked for help, that was rewarding. Because I knew it meant we'd developed a good bond and a relationship."
When asked about what it takes to be a carer for a parent and child, and what some of the challenges are, Johan explains: "It's important to be patient and understanding. And give yourself time to get to know each other and build a relationship. The challenging part is knowing when to step back and allow them to make their own mistakes in a safe way. Taking over will only alienate them."
On her general experience of fostering, and what carers often describe as their extended family, Johan explains "I really enjoy this part of being a foster carer, seeing my boys getting along with the children and playing games. Sometimes it can be hard, the children you care for don't always come back. I find this difficult to detach from. Some stay in contact with me, others I get the odd text from here and there. It's important to give them space as they may need to move on from that period in their life."
Find out more about becoming a foster carer for Lambeth
To speak to a member of the Fostering Team about becoming a carer, call 20 7926 8710 or email fosteringduty@lambeth.gov.uk You can also arrange a call-back here.