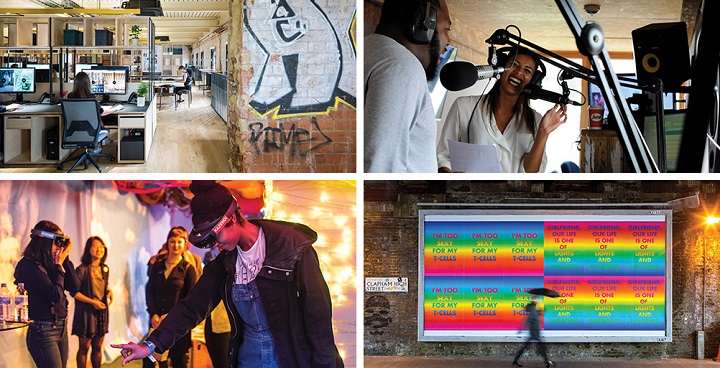 Lambeth's Creative & Digital Industries Strategy for Growth was put together over the last year alongside business leaders, education providers, trade bodies, young people and entrepreneurs. It was launched at the National Theatre on the South Bank.
It sets out the challenges faced by creative industries in London and how Lambeth is working to overcome them – providing much needed workspace, networks and support to enable creative and digital businesses to thrive in the borough.
It is expected that the success of the strategy will provide huge opportunity to young residents of Lambeth, reducing inequality and boosting growth and investment in the borough.
Word from the Cabinet
Cllr Matthew Bennett, Cabinet Member for Planning, Investment & New Homes, said: "I'm delighted to report that there is lots of action already underway in delivering the strategy. Some of this is council-driven, but in many cases it's through collaboration.
"As a borough have big plans and an ambitious agenda when it comes to harnessing growth in a way that allows all our communities, especially young people, to access better paid work in what is London's fastest growing sector.
"To do that we want to protect and expand workspace for creative businesses, we have a new approach to public art and better protection for pubs and venues because night life if a crucial part of our cultural economy.
"We plan to designate Brixton as a Creative Enterprise Zone and have just re-opened a former 11 storey council office building in central Brixton as London's biggest affordable workspaces for organisations in the creative and digital industries.
"These are exciting times."
It has also just been announced that funding worth £8million has been secured for South London Innovation Corridor programme which will be run in partnership with Wandsworth, Southwark and Lewisham to provide workspace, business support and talent development.
'A key part of London's success'
London's Night Czar Amy Lamé, who attended the launch on Thursday (Oct11), said: "The creative and digital industries are a key part of London's success as a leading global city at night, providing valuable jobs and investment to the capital.
"Opportunities to develop Lambeth's life at night in a safe and balanced way are vital and I am delighted to see Lambeth Council placing this work at the heart of their new creative and digital business strategy."
Lambeth Council has recently been highly commended in the Enterprising Britain Awards for its Lambeth Works project, innovatively and imaginatively provides flexible workspace for small and growing businesses.
The project has already led to the creation of six workspaces in the borough – Tripod and Pop Brixton in Brixton, Granby Space and Build Studios in Waterloo and the Health Foundry at St Thomas' Hospital – supporting over 300 business and creating more than 200 new jobs to date. International House will add a further 850 jobs.
The Creative & Digital Industries Strategy will also draw on the council's London Borough of Culture Bid, entitled Radical Hearts Open Minds, fundraising on top of the £200,000 it was awarded by the Mayor of London and working with cultural institutions and businesses in the borough to provide opportunity and collaboration.
To read the report visit Lambeth Now.