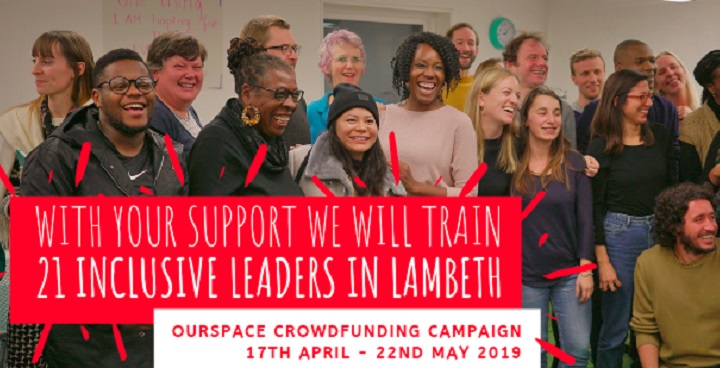 OurSpace is working to create inclusive spaces with skilled leaders drawn from the community in Tulse Hill, Angell Town and Brixton. Crowdfund Lambeth joined the community in supporting them with a pledge of 50% of their target. .
Community projects, community leaders
OurSpace say: "We believe community projects, initiatives and businesses drive local economic development, equity and equality. We believe community-led businesses – such as urban gardening/growing sites and community kitchens like Brixton Soup Kitchen – ensure money stays local, and give people decision-making power. And we believe they work best when they're shaped by leaders who have experienced exclusion. OurSpace helps them build the skills for that.
Train the trainers
"The first stage – the element we started a crowdfunder for – was residential training. Thanks to incredible support from Lambeth Council and all our supporters, we had 3 days' intensive learning. We now have 21 incredible community leaders starting work in three Lambeth-centres – Angell Delight, Yellow Qube, and Impact Brixton. By taking this 'Train the Trainer' approach, we will build capacity so each community centre can support local projects in the long run.
Ideas into reality
"We want to build a support network that allows the community to turn bright ideas into reality. We want empowering spaces where effective community action comes to life. In the first year, we plan
3 centres supporting community projects
20 new community business ideas ready to launch
a toolkit on 'how to create inclusive spaces for community businesses'
21 trained leaders ready to facilitate start-up courses and events
In 2020 we will scale OurSpace to more London boroughs and UK cities. For 2021 our aim is to bring this project to cities across Europe, and explore what a cooperative network could look like.
For more information
For more about Ourspace's mission, vision, projects and plans see their information pages
Crowdfund Lambeth is an online platform supporting new community projects and initiatives. Local people can donate to support projects in the borough. If the project generates enough support from the crowd, the council may contribute 50% of your funding target up to a maximum of £5,000.  Your project will need to support priorities set out by local people in the Cooperative Local Investment Plans (CLIPs).
For more about getting your project off the ground with Crowdfund Lambeth