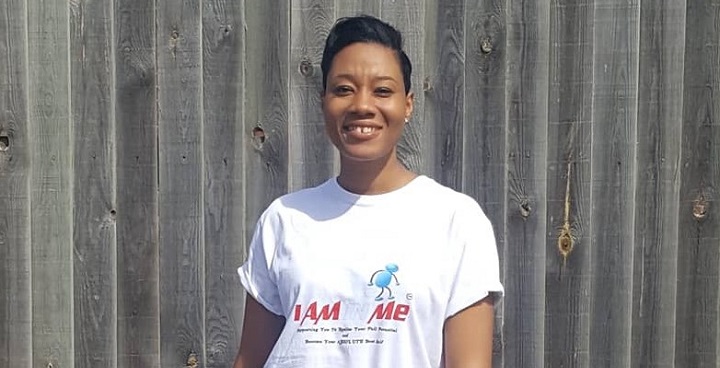 I AM Employability set a £2,500 Crowdfunder target to support 32 students leaving secondary school in 2021 to gain Accredited Level 2 Employability certification. In 35 days they raised £2,766 from 43 supporters –  with £1,250 match-fund from Crowdfund Lambeth.
Invest, inspire, influence and impact
Sasha Gay Smith (pictured above) founded I AM IN ME to 'Invest, Inspire, Influence and Impact' the lives of those most in need, preparing young people at risk of exclusion, not in education, employment or training, or at risk of gang affiliation (with a focus on BAME communities) to be equipped, empowered, and ready to step into apprenticeship, traineeship, T-Levels or higher education.
Employability certification
Crowdfunded money will double the number of people I AM IN ME supports to achieve Highfield Accredited level 2 Employability certification and increase their opportunities – with an immediate focus on 16-year olds looking for next steps in September, young people unemployed before Covid-19, and ex-offenders. For each young person, a level 2 Highfield Employability kit costs £43.14 with £26 for the certificate.
The scale of the challenge
House of Commons Library research into youth unemployment for September-November 2020 shows:
591,000 16-24 year olds unemployed
505,000 18-24 year olds unemployed, 1.59 million economically inactive.
Unemployed 18-24s rose 3% in a year from10.2% to 13.2%.
86,000 16-17 year olds unemployed; 1.11 million economically inactive.
More information
To contribute to I AM IN ME's mission see their website or via PayPal
Crowdfund Lambeth is a platform to support community projects making our borough a unique place to live, work, learn and do business. The project must demonstrate strong local support shown through a vibrant crowdfunding campaign. To be considered for match-funding from Lambeth Council, the project must also meet some simple criteria and contribute to one or more of the borough plan priorities:
Sustainable growth: a growing economy that everyone benefits from.
Resilient communities: communities that are thriving and connected.
Promote care and independence: people have support to live well and independently.
Place: Make Lambeth a place people want to live, work and invest.
To find out if your project or initiative is eligible for match-funding see our criteria and apply online