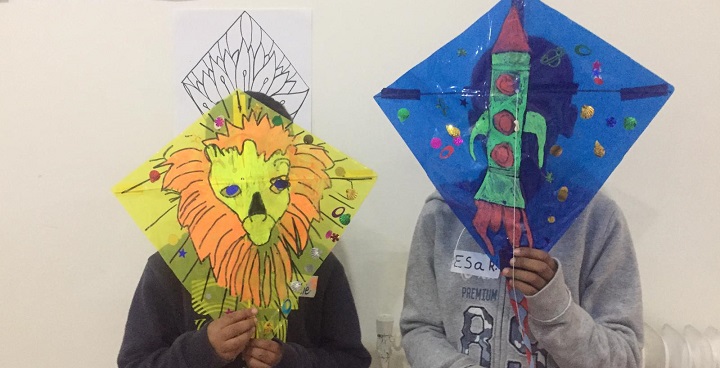 Streatham's Drop-in Centre for asylum seeker and refugee children started crowdfunding to purchase toys, books, games and resources for families who would otherwise have little or nothing over the summer months. Their original target was £5, 250 – enough to spend £35 on each child. In 67 days they'd raised over £7, 000 with supporter's pledges. Crowdfund Lambeth stepped in with an extra £955.
The Streatham Centre story
For nearly 20 years this independent grassroots charity has provided services for asylum-seeking and refugee families –  who often experience disadvantage, poverty and exclusion, and face attitudes which can make children feel ashamed of their background. Many refugee families can't claim benefits because of Government's policy of No Recourse to Public Funds. So families struggle to buy healthy meals and weather-appropriate clothing, let alone toys, games and books.
Covid-19 response
For 2020, we'd planned a year-long programme of educational, community and play opportunities. When Covid came we adapted, working with partner organisations to ensure safe access to services:
Working with foodbanks to ensure families have food.
Providing health and community advice
Collecting and rolling out of technology to keep our users connected.
But social distancing made play opportunities no longer viable this spring and summer.
The Drop-in Centre's services make a real difference to children and their parents. We believe our children have the right to play and have fun like any other child.  We won't hold back our efforts to make play possible at a time when children need it most.
More information
To donate to the Crowdfunder or to find out more about the Centre's Work see the campaign pages
Crowdfund Lambeth is a platform to support community projects making our borough a unique place to live, work, learn and do business. The project must demonstrate strong local support shown a vibrant crowdfunding campaign. To be considered for match-funding from Lambeth Council, the project must also meet some simple criteria and must contribute to one or more of the borough plan priorities:
Sustainable growth: a growing economy that everyone benefits from.
Resilient communities: communities that are thriving and connected.
Promote care and independence: people have support to live well and independently.
Place: Make Lambeth a place people want to live, work and invest.
If you have a project or initiative and want to find if you're eligible for match-funding, you can see our criteria and apply online