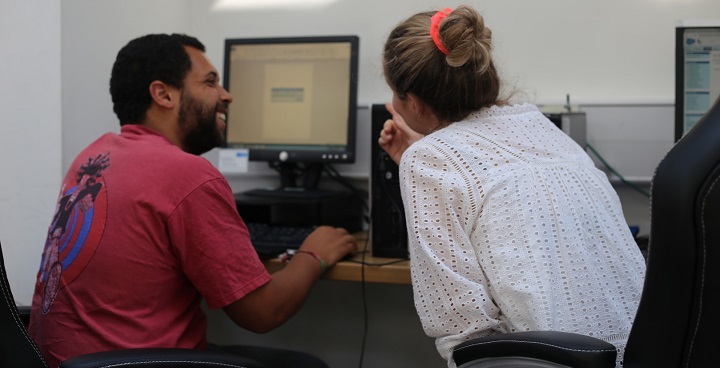 Lockdowns proved digital inclusion is vital for everyone, it's been our only way of keeping in touch with friends and family or work from home. For Brixton-based mental health charity Mosaic Clubhouse, many members who came to the building to check emails, apply for jobs and look up information about services felt isolated and – despite regular phone contact – struggled to stay feel connected.
Digital devices and teaching
Mosaic's digital inclusion project started last autumn, funded by the Coronavirus Community Support Fund via the National Lottery Community Fund. They provided laptops, tablets and smartphones to nearly 100 members and internet dongles to over 30. With Morley College, they also provided training, with over 40 members developing digital skills through one-to-one tuition, workshops, and courses.
Smartphone smarts
Between lockdowns, in early December, training included a drop-in at Mosaic on using your smartphone. "I've learnt a lot – how to use the phone confidently like a mini-computer. It can support me in many ways, like my spelling. I've learned to use the diary, clock and alarm, how to keep my phone details private. I like my teacher Richard's way of teaching. Plus, it's taken me out the house and I met other Mosaic members. Otherwise, I'd spend 95% of my time home alone"
Digital world
Being part of an increasingly digitalised world will help members in many aspects of their lives. Member Johnny said: "Mosaic Clubhouse digital inclusion project helped my social inclusion through Zoom, Whatsapp and Facebook messenger. I've watched numeracy and literacy videos on BBC Skillswise, and been perfecting my typing through online tutors. I also enjoy retro music on Youtube, especially Boney M and Glenn Miller. I completed my Census online, and I take part in religious meetings twice a week. I seem a lot happier and brighter as an individual."
More information
Mosaic Clubhouse has been in Lambeth for  over 25 years. The central idea of a clubhouse is that all staff and people are members, running the centre together.  They have now reopened, with limited capacity because of social distancing, and recommend booking ahead.
If you or someone you know could benefit from our service, (to join you need to have a mental health diagnosis and be a Lambeth resident), look at the Clubhouse website or call 0207 924 9657
(NB: Photo from 2019 before lockdown)