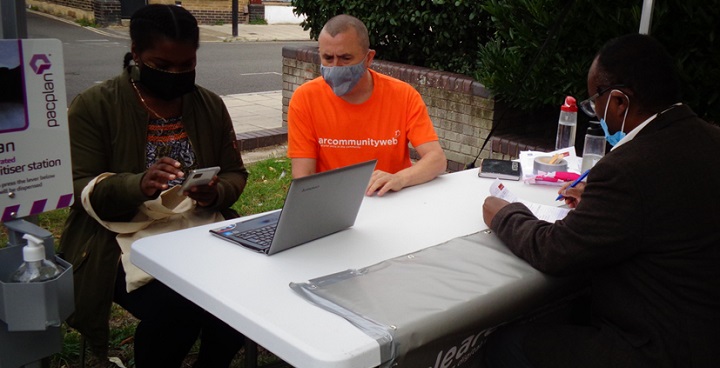 Last year the council established the Digital Inclusion Fund to provide small grants to community organisations to help more than a thousand people get online to access education, training or council services.
Around nine percent of Lambeth residents have no online access – accounting for around 30,000 people – posing a serious challenge that has only been exacerbated by the Covid-19 pandemic.
The newly published Lambeth Digital Inclusion report has reviewed these ongoing efforts and suggested ways to ensure the fund can directly benefit even more people in the future.
Andy Wilson, Cabinet Member for Finance and Performance, said: "Ensuring equal access to the internet for our residents is a core part of our strategy to ensure Lambeth can thrive in the digital world.
"This report highlights the work we have already done to help our residents get online as well as the work we need to do in the future.
"The Covid-19 pandemic exposed the growing disparity between those who are confident and able to use online services and those who require further help and support."
Lambeth Digital Inclusion report
The report recommends the council create simple access points for residents to use for general digital issues, including queries over Wi-Fi connectivity and referrals to other outside organisations.
It also recommends that services use common assessment questions for identifying and understanding residents' digital access needs, and that further research is conducted into specific barriers to digital access, for example when people are at a crisis point in their lives.
The Digital Inclusion Fund was launched in November 2020 with an initial £200,000 investment by the council split between schools and voluntary sector organisations as part of the Digital Inclusion Network.
The first funding round supported more than 300 people through 18 different organisations, while more than 1,000 adults and children have benefitted from the scheme this year.
An online crowdfunder was launched earlier this year that raised a further £100,000 in donations – which were match funded by the charity Impact for Urban Health – and allocated to schools to benefit children and young people.
A third round of funding bids is expected in 2022.
Data analysis
To prepare the report, Lambeth Council worked with We Rise and research consultant Linda Jackson to analyse data from the first round of funding.
We Rise recruited a dozen young people to conduct interviews with organisations who benefited from the fund, as well as other groups with unmet needs who could benefit from funding.
The young people were able to gain valuable skills training as well as collecting valuable data about the effectiveness of the Lambeth Digital Inclusion Fund, which was used in the new report.
This research found that the fund had an impact not just on levels of digital exclusion, but that digital inclusion was a gateway to improving people's lives in numerous ways including better access to job searches, health services and staying connected with family and friends.
Cllr Wilson added: "The Digital Inclusion Fund has already helped more than a thousand residents, including children and young people, to be able to access online resources.
"We aim to launch the third round of funding bids next year to ensure that we can help even more people gain access to broadband, internet enabled devices and continue this vital work."
For more information visit our Lambeth Digital Inclusion site or read the report here.