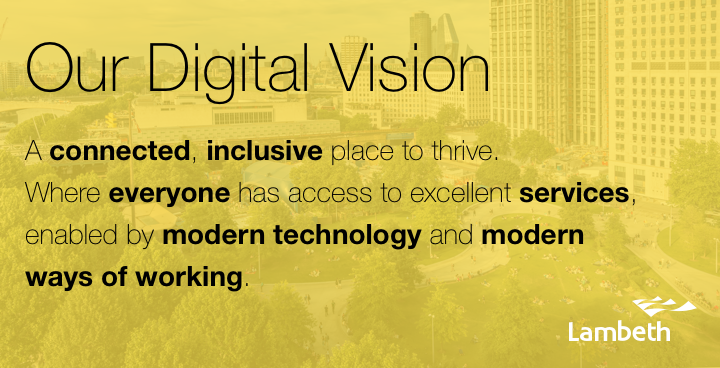 We're really excited about the journey that lies ahead, as we build on the work that's already been done and start to collaborate on new ideas. We'll be using this space on Love Lambeth to update you on our progress and notify you of ways to engage with us as our work progresses.
A digital vision for Lambeth
We've been working with staff, residents and others on a Digital Vision for Lambeth, with support from FutureGov. Our Digital Vision is about using modern technology to deliver great services to residents. Our mission is:
'To be a connected, inclusive place to thrive where everyone has access to excellent services enabled by modern technology and modern ways of working.'
Join the team
We have recently announced a number of great new roles for people who want to make this happen here in the council.
Interim Director of Residents' Experience and Digital, Tiffany St James, recently joined us. Tiffany will be driving our digital transformation programme across the council and in conjunction with residents, businesses and communities in her dual role as Chief Digital Officer.
From strategy to delivery
We're currently working on our digital strategy, and particularly our 12-month delivery plan putting residents' experience at the heart of what we do.
We know that to make the plans in our digital strategy a success, we need to introduce new ways of working and help our staff to make better use of digital tools in their work. We'll be leading an internal programme of digital capability, digital innovation and digital ways of working to support this.
We'll be looking at how we can work more closely with residents, businesses and communities too, we want to help support, connect and facilitate digital business in the borough.
All of this takes a backdrop of identifying and prioritising key digital experiences of residents too to enable us to deliver better council services for you.
We'll be updating the space here on our progress and ways for you to get involved.