Disabled people , like everyone else, want to have a full active life which is why Lambeth has joined up with DisabledGo to help meet their needs.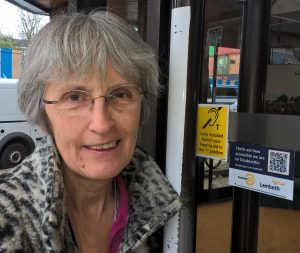 Disabled people face obstacles on a daily basis.  It's more difficult to get around, especially in London where travelling on the tube takes four times longer for disabled people. And there is nothing worse than struggling to get to a venue and then finding you cannot get in. It really helps if venue staff are aware of disabilities and understand how to improve access.
That's where DisabledGo comes in, an organisation founded Dr Gregory Burke, a wheelchair user since the age of 16.
DisabledGo uses very detailed information collected on personal visits to each venue on their database.  There is no pass mark, it is just accurate and useful information. Every person, with a visible or invisible disability is an individual and will have their own specific access requirements.
Helping everyone
Some people have lifelong disabilities and many more people have temporary disabilities. DisabledGo can help everyone.
Most of the London boroughs have had venues audited by DisabledGo. In Lambeth we have focussed initially on main council venues, stations, GP practices, schools & pharmacies.
Disabled people want to visit entertainment venues and go out shopping.  The spending power of the more than 12 million disabled people in the UK (the so called purple £) is estimated at £212 billion a year.  Put simply, venues that publicise their access information will get more customers! St Thomas' Hospital has just started a detailed audit of all its receptions, clinics and wards – a considerable undertaking.  For more typical venues the price is in the region of a couple of hundred pounds.
Arrange a DisabledGo audit
So we now need to encourage more retailers, hotels, cafes, bars and entertainment venues to arrange a DisabledGo audit. Disabled people also want to be out & about and attend events in community venues. Look out for the DisabledGo sticker shown in the picture in this blog.
For far too long the access rights of disabled community have been almost ignored. It's now time for all aspects of our society, from both the public and the private sector, from government institutions to business, to work with partnerships like Lambeth and DisabledGo, to ensure our entire borough is more accessible.
For more details see http://www.disabledgo.com/   @DisabledGo