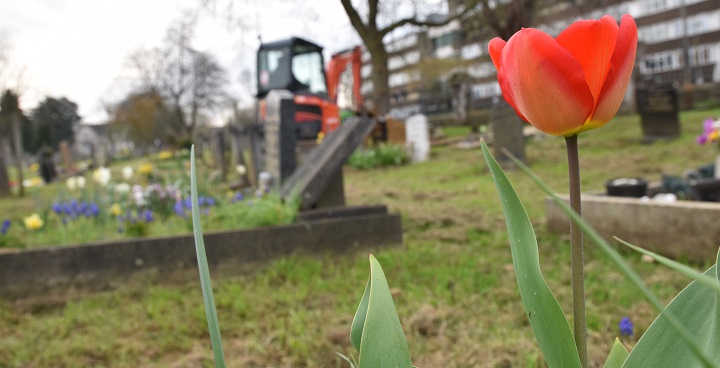 Lambeth's Bereavement Services are proud to be awarded Double Gold from the advisory body for funeral and cremation services, the ICCM.
Professional recognition
Despite the pressure of the pandemic, with all staff working flat out (we couldn't work from home) managing funerals and engaging face-to-face with families who have lost someone, Lambeth has been recognised for its work in both burials and cremations.
Charter for the Bereaved
The ICCM Charter for the Bereaved sets industry standards for the services people expect at this difficult time. ICCM isn't a regulatory body but offers expertise and years of experience. Their Board of Directors – experienced funeral directors, cemetery managers and Crematorium team leaders – wrote: "May I take this opportunity to congratulate your authority and staff in raising the standard provided to the bereaved."
Silver, Gold, Double Gold
In 2017 Lambeth won Silver for burial services and Gold for cremation. Now, it is a particular source of pride to have achieved Double Gold in the middle of a pandemic.
Word from the Cabinet
Cllr Sonia Winifred, Lambeth's Cabinet Member for Equalities and Culture, said: "We want Lambeth residents to know they will be looked after. While we appreciate this Gold Standard recognition from ICCM, we never want people to come to a funeral or cremation and notice our services. We are in the background, offering the best at the most difficult time. Thank you to our staff who make these difficult times as comfortable as possible for the bereaved families and friends."
900 questions
Jacqueline Landy, Bereavement Services Manager based at West Norwood Cemetery, said: "Applying for the ICCM meant filling in 900 questions, including things like clear direction signs and wheelchair access, as well as people services. Just filling in their questionnaire helped me identify improvements."
Journey out of lockdown
Until June, Government guidance for funerals is still 30 people maximum. "We have seen much sadness and distress, having to advise families not to hug or shake hands with their minister – which has been so difficult," says Jacqui. Lambeth Bereavement Services have worked with some amilies to plan memorial services this summer.
Volunteer and community payback groups have resumed working in small social distant numbers, and historical and nature tours are under review, possibly to resume in May.
More information