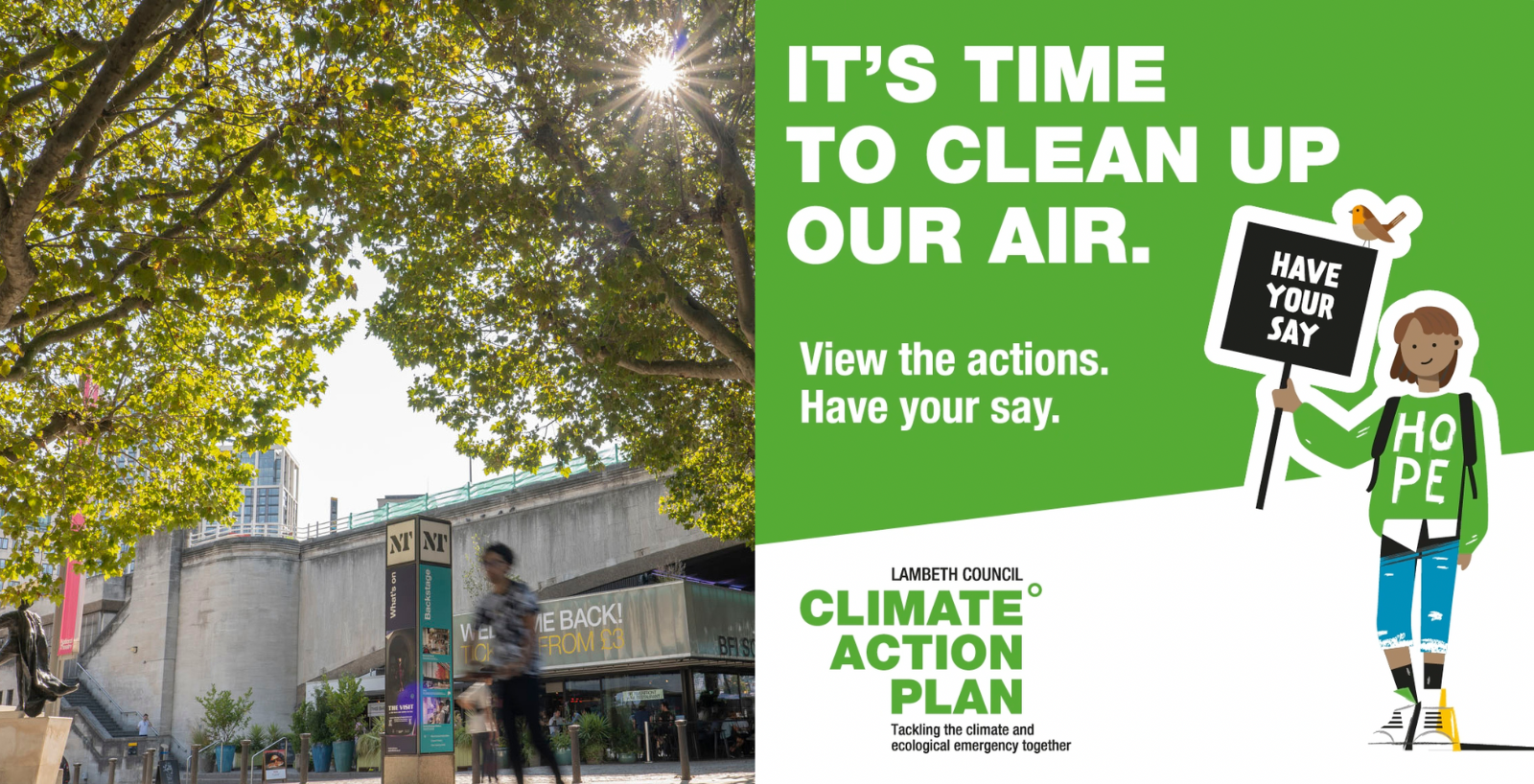 The draft Air Quality Action Plan (AQAP) 2023-2025 outlines a series of steps that need to be taken by the council in order to pursue its ambitious long-term goals to improve air quality fairly and effectively for everyone.
It identifies ways to target the major sources of emissions as well as suggesting what can be done to reduce peoples' exposure to pollution and protect the health of vulnerable residents such as children, older people, or those with existing lung or heart conditions.
The consultation is seeking the views of anyone who lives and works in the borough to help shape the final AQAP document before it is adopted early next year.
Have your say on the draft Air Quality Action Plan consultation
There has been a significant improvement in air quality in Lambeth since 2014 but overall pollution levels remain high across the borough.
The AQAP addresses how to reduce the levels of Nitrogen Dioxide (NO2) and Particle Matter PM2.5 and PM10 that can lead to serious illness or death.
The final AQAP will support the aims of the Air Quality Vision that was adopted in 2021, which sets ambitious targets for improving air quality based on World Health Organisation recommendations.
The AQAP would also work towards the goals of Lambeth Council's Climate Action Plan (CAP) and its commitment to breaking the link between living in inner-London and suffering poor air quality.
Poor air quality disproportionately affects the most vulnerable in society such as children, older people or those living in poverty or with existing health conditions. Each year in Lambeth air pollution kills more than 100 Lambeth residents and causes hundreds of hospital admissions.
The previous Air Quality Action Plan 2017-2022 achieved a range of successes including overseeing a 62% reduction in NO2 levels at Brixton Road, a 52% reduction at Vauxhall, and a 30% reduction at Streatham Green, compared to 2014 levels.
As part of the response to pollution, Lambeth Council will establish an Air Quality Forum for residents to have their say and will continue to work with regional and national government to influence policy in areas beyond the council's direct control.
Cllr Rezina Chowdhury, Cabinet Member for Sustainable Lambeth and Clean Air, said: "It is clear that Lambeth has taken great strides in improving air quality over the last eight years, particularly around some of the worst affected areas.
"But we must do more, and go much further, to achieve our long-term goals of cleaner air and a reduction in vehicle emissions that lead to so many unnecessary deaths and illnesses.
"We want to help those most vulnerable to air pollution with targeted support for children, the elderly, or people with existing health problems who suffer the most.
"The Air Quality Action Plan strengthens our existing commitments to meeting strict WHO targets for air quality, which go further than those of most governments. It also directly addresses some of the largest causes of air pollution and suggests tangible ways to make reductions and improve the air we breathe."
Read more about our draft Air Quality Action Plan and respond before the consultation deadline on November 2.