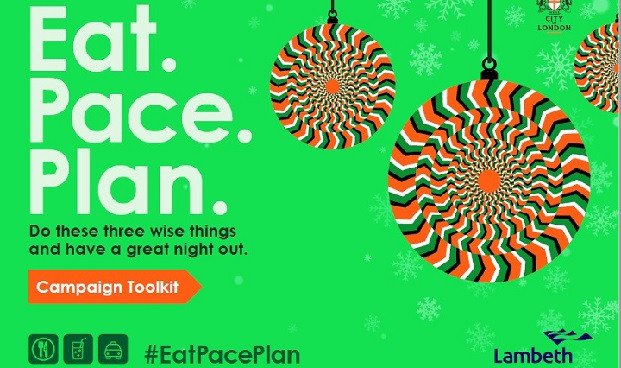 For a great night out, think three wise things
Lambeth is one of the best places in the world for a night out. This Christmas, Lambeth Public Health supports the London-wide EatPacePlan initiative helping Londoners to have fun, but get home safe and well.
Word from the Cabinet
 Cllr Ed Davie, Lambeth Council Cabinet member for Health, said: 'Last December, London's ambulances responded to over 5,000 alcohol-related incidents. We support the "three wise things" campaign because we want everyone living in Lambeth (or visiting because it's a great place to enjoy good times) to stay safe and well without missing out on the fun with friends and co-workers.'
Eat
Eat first, then drink – it slows down your absorption of alcohol, helping you stay in control. Or party somewhere that serves food.
Pace
A soft drink, non- or low-alcoholic drink, or water between alcoholic drinks slows the rate of your drinking.
Don't drink alcohol anyway? Pregnant? Bars and pubs these days have great alcohol-free alternatives. Many non-alcoholic beers or cocktails are lower in sugar than orange juice, too.
Stick to safer drinking levels – 14 units in a week over three or more days. Ask the bar staff. Do they pour doubles or singles? How much wine is in each glass? A 125ml glass of wine is around 1.5 units of alcohol.
Beware of 'rounds'. 'Keeping up' is dangerous and often very expensive.
Stay hydrated! Start and end your night with fizzy or still water.
Download the NHS One You – Drink Less app to keep track of what you're drinking and spending.
Plan
Before going out, think about getting home. Check last train times.
London Buses are 24 hour. Search for the next bus with your stop or bus route number.
Don't leave your drinks (or your bag and phone) unattended.
Get a taxi or book a minicab. You can hail a black cab or book via app or phone and pay by card. Minicabs are booked via app, phone, or at their office. You'll get a booking confirmation. Only ever book with a licensed minicab company, for safety's sake.
Don't walk home alone, and look after friends or colleagues who've had too much.
The morning after, you may still be over the drink drive limit. Don't risk it.
Rethink your drinking
The Rethink your drinking scratch card was developed by experts and has been extensively evaluated.
Get more information about alcohol and health from the NHS
Get advice and support by phone from Drinkline 0300 123 1110.
Eat, Pace, Plan! and Have a Merry Christmas