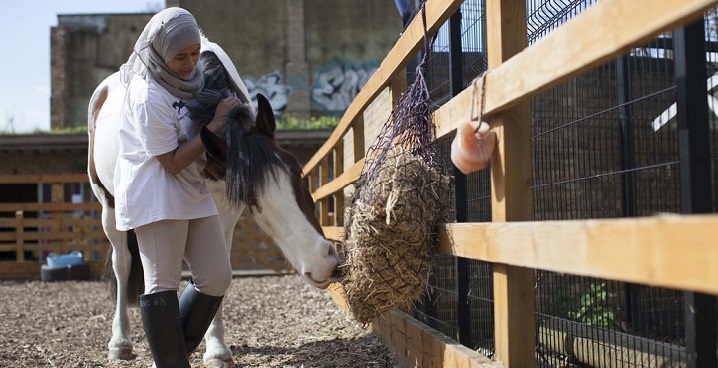 We are a trusted community organisation that has worked with mostly ethnic minority children over 21 years.
Horses for Brixton
Originally, children were taken out to the countryside, but for the past five years we've had this site in Brixton. People from the community support us – children look out their window and see horses. Their peaceful nature can help people to find calm.
Riding for all
Our young people get opportunities to take part in a diverse range of trips and activities and do not feel restricted by the environment they grow up in. One of our 14-year olds rode at Ascot and was treated like a professional jockey. Schoolfriends tend to just not believe it: "I ride horses" – "No you don't."
Learning in style
We provide 3,000 riding lessons a year to more than 400 people from 8 years old upwards. Many people stay until early adulthood, demonstrating our commitment to 'create long-term change'. We have an equal number of male and female riders. That's another challenge to a stereotype that believes only little girls love ponies.
Supported development
Before coming to Ebony Horse Club most of the children we work with have had little or no contact with animals, missing out on the opportunity to experience the enjoyment and learning that owning or looking after an animal can bring. 26% of our riders are people with Special Educational Needs and disabilities and there's evidence that it's therapeutic for everyone.
No restrictions
Our young people do face stereotyping. People think of inner city children and think drug crime and low academic achievement. But the inner city isn't a horse's natural habitat, and that underlines the message that you don't have to be limited by where you come from. You can change your life.
People go from here to university to study equine business, and they also go on to horse related work. One young man has ambitions of going into the Army to be part of the Horse Guards cavalry.
"Ebony Horse Club pushes me to be more, and gives me time and space to let go of what's happening in the outside world." (Brixton teenager, now in further education)."
Find out more