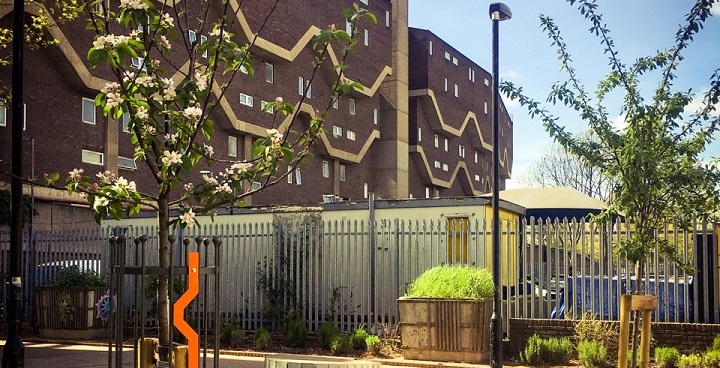 Plants for place
Last September, the Edible Bus Stop team – with friends and partners including the TRA, residents, Lambeth Council, their grounds maintenance contractors Pinnacle, and Veolia Environment – pulled some serious welly outside Southwyck House in time for the Brixton Design Trail 2016. In a week we installed designer benches (donated by award-winning street furniture makers; Vestre), planted two apple trees and one plum, dug in over a ton of compost and – with the help of some lovely lads from the estate – planted over 70 pots of plants.
Plants for peace
It's still looking great and we believe it's the spot on the Brixton Design Trail with the most positive social impact. The site has remained tidy and vandalism free. Far from encouraging anti social behaviour, street seats have brought out the best in people.
Adding to the mix
Now, to add to the momentum, you're invited to a community planting afternoon: Wednesday May 31st (1pm-5pm). We'll complement the fruit trees – great for cleaner air and adding beauty and biodiversity – with a herbs-and-berries garden, and Mediterranean flowers for summer colour. We've also got six different types of sunflower seeds – we know kids love planting them!
Breaking down barriers
We called the redesign of the central entrance "Breaking Down Barriers" – but what do residents want to call it? By feeling proud of it, joining in with the gardening or simply keeping an eye out for it, the site will continue to be a really great space and respected by everyone.
In the fringe
The planting coincides with the Chelsea Fringe – all kinds of events celebrating gardening or enjoying green space in the city.
Making it happen
Time is of the essence. We've turned around on a six pence, but with support like in September, we can do it again.. The TRA have kindly offered refreshments. We have the tools, all you need is a smile and suitable gardening clothes and shoes. Come and be part of making your space a better place! All welcome
The Edible Bus Stop love Brixton
We've got exciting plans for Brixton in the coming year. We're delighted to announce that we've been selected as a Headline Event for the Brixton Design Trail 2017.
Follow us on Twitter, Instagram and Facebook for more updates on what we're up to.