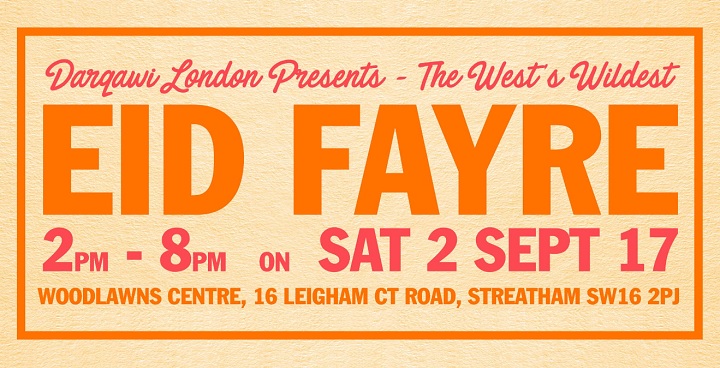 Billy the Kids, small and big, can enjoy Buffalo Bill's Bouncy Castle, Frontier Face Paint, and games, games galore. We have Texan Tug of War, Lafayette Ladder Toss, Sponge Splash the Sheriff and many, many more.
Pioneering stallholders are pitching up to offer Eid Farye finery. From face cream to ice cream, we have quick-trigger treats to get you in the pink and peachy, in the mood for celebration.
Cowboys & Indians, Outlaws & Sherifs, Shayks & Mates & Dates all welcome!
---
Entry: £2 for adults and £1 for kids
Funds raised from the entry fee will be donated to Walou – a charity supporting street children in Morocco.
---
Don't forget to share your interest out there on the Facebook Frontier – The more yammerin' the better!
And it'll be swell to know if you'll be swingin' by
#LondonEid  #CowboysAndIndians  #EastMeetsWildWest  #CurryWestern
Facebook @DarqawiLondon – Twitter @DarqawiLondon
---
Any questions, or you want to get involved? 
Get in touch guys and gals – the more the merrier!
Visit the Darqawi London Facebook event page.