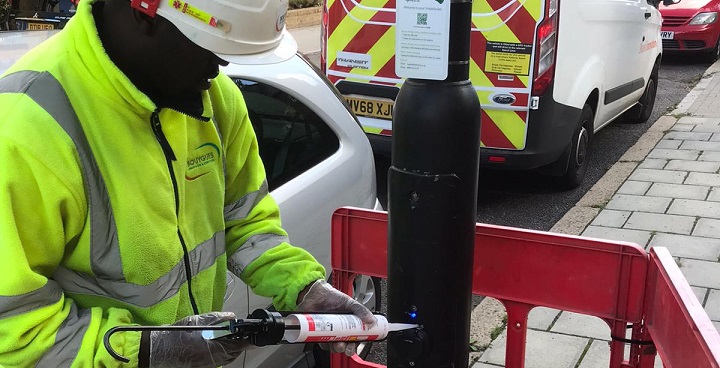 As part of Lambeth's long-term action for cleaner air, we promised 200 chargepoints for electric vehicles (EV) by 2022. In October 2020, we're well ahead of that target with 176 lamp column charge points, 11 rapid charge points and 21 standalone fast charge points – and we're planning the next phase. On Clean Air Day 8 October re-charging at all Lambeth's lamp-column chargepoints will be free. Find details of Freecharge.
Network of chargepoints
It's part of helping people in Lambeth choose to journey away from fossil fuels. When we first installed EV chargepoints, some said 'will Lambeth use them?' Now, we've three different kinds, including 11 that can recharge a commercial vehicle in under an hour. Our aim is to create a Lambeth chargepoint network where your Zap Map will show you're always close to a refuelling point.
Resident requests
Locations for these newest 60 on-street units – the kind that can recharge  a private car in about 7 hours – were influenced by public requests via online forms. We prioritise requests from people with disabilities and from taxi, private hire and other high mileage EV owners. If they can conveniently recharge and run on electric power, we all benefit from better air quality. We ensure that anyone who doesn't have off-street parking is no more than five minutes' walk from their nearest chargepoint.  We monitor usage of existing chargepoints, along with requests, so we know where more are needed.
Lamp locations
Installing each new lamp-column chargepoint takes a team of two just hours, and they're portable so can easily be relocated if the need on a different street proves higher than originally thought.  We've also upgraded some of our original charging units so they now deliver a charge faster and are compatible with many different cables.
Next wave
Five Lambeth-managed housing estate will have charge points installed this autumn for the first time and another batch of lamp-column chargepoints will be installed before March. We will ensure that access to the chargepoints is made easier for electric vehicle drivers by creating EV only parking bays. Lambeth's Parks Maintenance Team who have successfully moved over to an eco-friendly vehicle fleet and will benefit from charging points for bigger vehicles.
Word from the Cabinet
Cllr Claire Holland, Deputy Leader of the Council (Sustainable Transport, Environment and Clean Air), said: "Enabling the switch to electric vehicles that are zero emission at the tailpipe is, along with our transformational programme of investment in active travel, all part of our commitment to supporting residents to shift to low-carbon lifestyles. The figures show our charge points are very well and regularly used, which is clear evidence that the residents of Lambeth are actively making sustainable transport choices and caring about finding solutions to the climate crisis."